The Smell Good Plumber™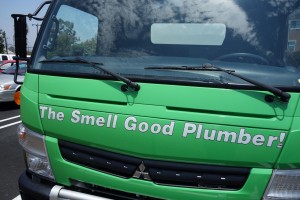 Mike Diamond is Southern California's famous Smell Good Plumber™. We've been serving Los Angeles, Orange County, San Bernardino and Ventura Counties for over 35 years. So how have we been around for so long? In addition to being certified and insured in the fields of plumbing, drain cleaning, HVAC and electrical work we're on call 24-7 and provide every customer with our 100% Satisfaction Guarantee. We smell good, too!
The Smell Good Plumber™ Guarantee

Our work can get messy sometimes, that's why we're focused on keeping our plumbers and equipment clean and fresh at all times. We guarantee that our plumbers will show up on time and smell good or the house call is FREE*. Also, if you're not completely satisfied with our installation or service repair, we will do the job again to your satisfaction for FREE*.
Clean Uniforms Every Time

We supply all uniforms to our plumbers, and ensure they have an extra uniform stocked in their truck at all times in case they get dirty on the job. When our plumbers come to your door, they'll smell good and be ready to tackle your plumbing needs.

Sanitary Gloves for Safety

Sanitation is a top priority for all Mike Diamond plumbers. Our plumbers wear latex gloves between all jobs to ensure you and our staff stays clean, safe and healthy at all times. 

 Red Carpet Treatment

When a Mike Diamond plumber shows up on your doorstep, you can be sure you're getting the red carpet treatment. Our plumbers will use protective shoe coverings in every home they service to avoid dirt and debris. You can be sure we'll leave our mark of great service, but you won't find any footprints when we leave!
Mike Diamond Trucks

At Mike Diamond Services, our state of the art plumbing trucks are equipped with the latest plumbing tools and technologies to handle any plumbing, heating, air conditioning or home repair need. We keep them sanitary and fully stocked, so you can be sure we'll take care of the problem.
What's Inside? Each one of our fully stocked trucks contains at least five faucets and a garbage disposal, just to name a few. We also utilize just-in-time parts restocking to ensure our trucks are always fully stocked and clean so that we're ready to tackle any plumbing job at a moments notice.
Shaped for Efficient Service The famous box shape of our trucks allow our plumbers to sit in the cab of the truck, far from the potentially stinky plumbing equipment in the back.
Scheduled Sanitation Though our plumbers clean up after every service, we also conduct weekly truck inspections to keep our vehicles in top shape when we show up in your driveway. Staying clean and smelling good is what sets Mike Diamond plumbers apart.
What Sets Mike Diamond Plumbing Apart?
When Mike Diamond started plumbing in 1976, he was 19 years old and full of ambition. After nearly four decades of experience, Mike Diamond has refined his business through his time trying new things and constantly learn what constitutes success. Transforming into the Smell Good Plumber™ was a huge success for Mike Diamond — not only because it set his business apart, but also truly defined his ideals and motives.
Certified Plumbers Available 24/7
All Mike Diamond plumbers are licensed in the state of California and are put through full background and drug tests. As soon as they get the call, Mike Diamond plumbers will be at your door and smelling good. Mike Diamond call center is available 24/7 with real people that will answer your call 24 hours a day, 7 days a week. While competitors may waste time with multiple trips to get specific parts, Mike Diamond plumbers arrive with their fully stocked trucks containing all the tools and parts you need.
Customer Respect
Most of all, we respect our customers. Small tasks like grabbing the newspaper or helping to take out the trash is what you can expect when a Mike Diamond Plumber is at your service. Our Smell Good Plumbers™ will solve your problems efficiently. If you're not satisfied, you can be sure we'll do the job again to your satisfaction for free. When you're experiencing a plumbing issue, call Southern California's famous Smell Good Plumber™.