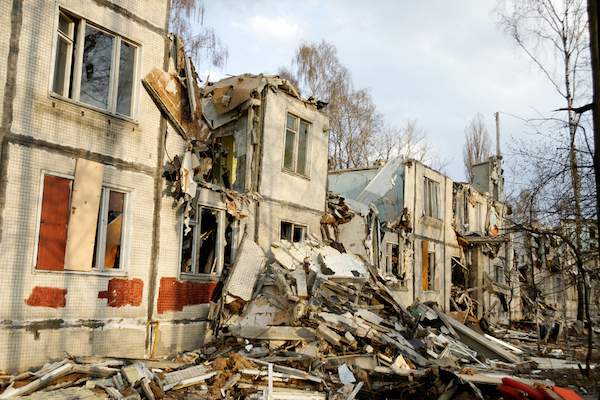 All the convenience of a modern home is great, obviously, but it comes with drawbacks. For instance, your natural gas line helps power your home, but it can also be dangerous. Inhaling gas is hazardous to your health, and natural gas is highly combustible.
One of the most dangerous things about earthquakes is their potential to create leaks in natural gas lines. Some of the worst damage incurred during earthquakes happens when the quake creates a leak in a gas line. That leak ignites, usually as a consequence of other damage caused by the quake, causing an explosion. Whenever you have a gas leak you should manually turn your gas off right away. That's not always possible during or immediately after an earthquake.
The last thing you want to worry about after an earthquake is if your house is about to explode. Earthquake shut-off valves eliminate that concern. These valves aren't installed in every home, however–even in places where they're sorely needed. That's why we put together this primer on everything you need to know about earthquake shut-off valves. This is what they are, how they work, and why it's important you get one. Natural gas leaks are no joke; one of these valves could end up saving your life! Or, at least, a significant chunk of your change.
What is an Earthquake Shut-off Valve?
An earthquake shut-off valve is a small device installed on your property's gas meter. There are two specialized valves:
The Seismic Gas Shut-off Valve: This monitors seismic activity. If a magnitude of 5.1 or higher is detected, it  automatically shuts off your natural gas. Once installed, the valve works with no input from you or anyone else.

Excess-Flow Valve: When a significant gas leak or overpressure surge occurs in your gas line, this valve will trigger and restrict gas flow to the offending pipe or appliance.
As you can see, installing these shut-off valves will help ensure that when something dangerous happens to your gas line, you won't have to worry about breathing dangerous fumes or igniting a gas explosion or fire. Once activated, the valves will not allow gas to flow through your line into your home until a professional has deactivated them and made sure the problem they identified has been dealt with.
How Do They Work?
The two types of shut-off valves detailed here are designed to react to different things, so they both work differently. The seismic gas shut-off valve reacts to shaking. When you have it installed, a metal ball is installed inside your gas pipe, directly above the main line the gas uses to get into your house. When the pipe begins to shake with a magnitude of 5.1 or greater, that metal ball comes dislodged from a suspension ring and blocks the gas line. The metal ball's blockage prevents gas from moving further down the line and into your house.
The excess-flow valve is a more conventional valve than the seismic gas shut-off valve. The distinctive difference is the excess-flow valve designed to look for leaks or high-pressure, not seismic magnitude. This valve includes an excessive flow sensor. This sensor fits into the internal mechanism of the valve itself. When it senses that the natural gas that passes by it is flowing too quickly, either as the result of excessive pressure or rushing out through a leak, it tells the valve to clamp down. This prevents further pressure build-up or any more gas from escaping through the leak.
These two valves are separate mechanisms and each requires separate installation. Both have distinct advantages and disadvantages: The seismic shut-off valve is very good at preventing gas from getting out through leaks caused by earthquakes, but it cannot actually detect whether those leaks were made. The excess-flow valve reacts to more than the seismic shut-off, but it's best at responding to big problems. The excess-flow might not always find small leaks that only cause gas to flow a little faster than usual. Either can be installed to your natural gas line without the other, but for maximum safety, Mike Diamond recommends getting both installed.
Why Should I Have One?
First of all, emergency shut-off valves like these ones are going to be required for all new housing construction. If something is required, it's for good reason. These shut-off valves can prevent gas from getting into your living space. Without these valves, you have to manually turn off your gas during an earthquake or you run the chance that leaks will develop and become a danger to the property of yourself and your property. The shut-off valves are highly unintrusive; you'd never notice they were there until they do their job. If they ever do activate, that was a sign you needed a professional to come solve your problem, anyway. The same professional that solves the problem identified by your valves can re-activate the seismic shut-off and excess-flow valves, so they'll be ready to activate again in case of further problems.
In addition, shut-off valves eliminate the potential for human error or forgetfulness. Earthquakes are an extremely frightening occurrence, even without having to worry about gas leaks. If you get one (or even better, both!) of these important safety appliances installed in your natural gas line, during a stressful time, you'll have one less big thing to worry about.
To put it simply, if you live where earthquakes happen, you should have an emergency shut-off valve installed on your natural gas line. Mike Diamond has certified expert gas technicians on hand, ready and eager to answer any of your questions and set you up with either valve today. Whether or not you have a valve, ask your technician about our exhaustive free visual safety inspections.
Don't wait for the next natural disaster; call now to cover your bases and give yourself some peace of mind before Southern California decides to shake things up.