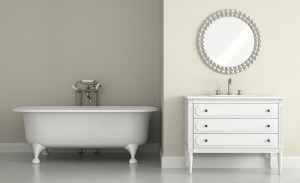 It's the same every day.
Your bathroom is the place you visit a few times a day, often for a daily routine. And every once in a while, it's next on your list for rooms you'd like to renovate.
Thankfully, renovations don't have to be costly. Due to the small scale of your bathroom, it's relatively easy to take on simple updates to create a new ambiance. While mid-range bathroom remodels can cost more than $16,000 dollars, you can take a zero or two off that number and spend an afternoon transforming your bathroom.
If you're ready for a fresh, new look in your bathroom without taking on a time-consuming or expensive project, check out these 5 simple ways to revitalize your bathroom.
1. Light up the room
Bathroom lighting can make or break the way you're going to feel about your day. You shouldn't be getting ready in a poorly lit room or telling yourself the "Hollywood" lighting above your mirror is going to come back into style. Choosing new lighting fixtures is both a functional and stylish update that can have a major impact on your bathroom space.
2. Paint a new picture
Tired of the plain white walls in your bathroom? Paint! This is likely one of the smaller rooms in your home, meaning it's the ideal chance to get creative with that paint color you were unsure of using in a large room. Even a simple, beige tone can make a drastic impact from your former white walls. It won't take long. Choose a new color for your bathroom and enjoy a new vibe.
3. Update faucets
Your bathroom faucet is one of the most-used fixtures in the room. Whether it's getting worn out or you're simply tired of its current style, choose a more elegant or vintage-style faucet to completely transform your bathroom.
Before you make a purchase, think about which shape and finish you'd prefer. This will help you narrow down your choices, which can get overwhelming when you first embark on a shopping trip.
4. Choose a new theme
Replacing your shower curtain or the towels that hang on the rack makes more of a difference than you think. Inexpensive updates like these will give your bathroom a new look and theme. Splurge on a new rug, towel rack, or standalone decorations.
5. Flush away the old, bring in the new
Your toilet might be doing just fine the way it is, but is it as efficient as it should be? Consider a new model for your bathroom to save money and be more efficient while changing up the look of your space.
If you're thinking of updating any of your plumbing fixtures, give Mike Diamond Services a call. Our Smell Good Plumbers can help you with toilet installation and repair, water heater installation and drain cleaning to keep your bathroom in the best shape. Give us a call today and we'll use our experience and expertise to help you with your bathroom revitalization project.