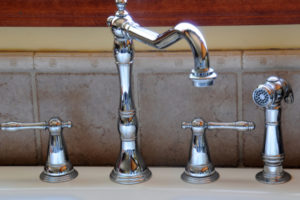 Changing your kitchen sink sprayer probably feels like an intimidating project to take on. After all, it's… a sprayer. There are buttons involved. And pressure. You're probably not even all that sure how it works. You could always call a trusty plumber to take care of things for you. If you feel like taking on this project yourself, however, you might be surprised how simple it is.
Whatever you decide, we want to help, which is why we put together this step-by-step replacement walkthrough. If you follow these simple steps, you'll be able to replace your kitchen sink sprayer no sweat.
Step 0: The Prep
There are a few things you'll need to do to prepare for this project. First, make sure you have the following items:
a screwdriver
pliers
an adjustable wrench
a bucket
a sprayer replacement kit (we recommend purchasing from the same manufacturer of your current sprayer)
about an hour of free time.
Have all of these tools on-hand before you start. Once you do, we're ready to begin. The actual replacement process is pretty simple:
Step 1: Remove the old assembly.
Turn off the water and drain the sprayer hose to the best of your ability. Angle it so that gravity will help. Next, go under your sink and find the old sprayer hose. Place your bucket under the hose to catch any spillage, and then cut the hose straight through.
Pull the hose out through the fitting and toss it away. Next, find the faucet nipple and unscrew the remaining hose from it. Remove the nut from the fitting. After removing the nut you should be able to easily lift the rest of the fitting straight out.
Step 2: Installing the new deck fitting.
Once you've removed the old sink sprayer, install the new deck fitting by following the instructions in the kit. It should be as simple as attaching things the same way you detached them.
Feed the hose through the fitting from above and fit it into position. Maneuver the hose so the threads of the faucet nipple catch the threads of the hose. Thread the new hose in place using your adjustable wrench, and you'll be good to go.
‌
If you've read this guide and aren't quite sure about taking on the project yourself, don't fret. You can always call in the pros at Mike Diamond. We've got your back, DIY or otherwise.