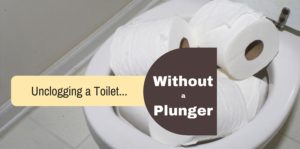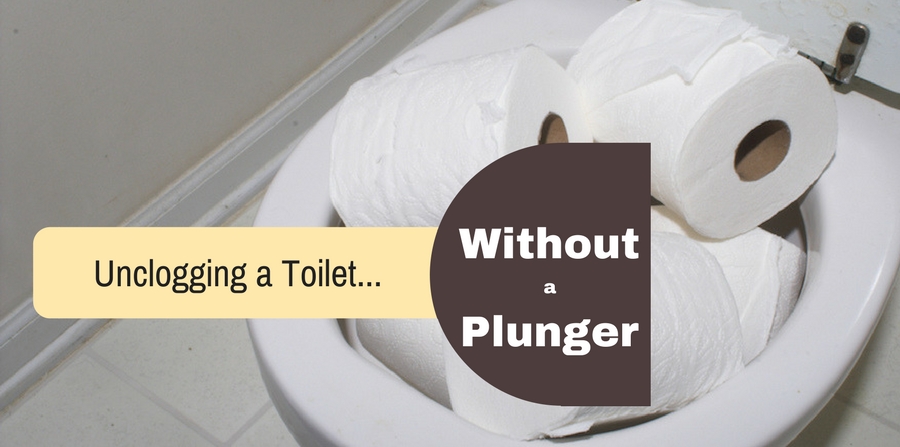 It's safe to assume that most homes have a plunger. Unfortunately, however, bad luck has a way of finding the rare times when you're unprepared. There may come a time, no matter how unlikely, when you find yourself with a bad toilet clog and no plunger. Panic-inducing as this scenario sounds, it's not insurmountable.
This blog details the easiest ways to unclog a toilet when you don't have access to a plunger. Next time the unexpected happens, just take a deep breath and try…
Hot water
When we say hot water, we mean hot–not boiling. Pouring boiling water into the toilet bowl could crack the ceramic, which would make an existing problem much worse.
Use a bucket to pour about a dozen cups hot water into the toilet slowly. Let the hot water sit in the toilet bowl for several minutes. The heat from the water should break up the existing clog, allowing it to be properly flushed down the drain.
Copious amounts of dish soap
Another option is to take a bottle of dish soap and squeeze a large portion into the bowl. Let it sit for about thirty minutes. Before the time is up, you should see that water is starting to drain, but don't freak out if it takes longer.
How quickly the soap breaks down the clog depends on how severe the clog is. If you don't have any dish soap, basic (don't use a fancy, expensive salon brand) shampoo will work just as well.
Pouring some epsom salt into the bowl
This option could be especially helpful when you're a guest in someone else's home, and don't want to leave the bathroom before you fix the clog. Snoop around the bathroom and look for a bag of epsom salt.
Pouring epsom salt into a toilet bowl triggers a fizzy, soapy chemical reaction. This reaction can help break up the clog and clear the drain. If you can't find epsom salt, a rogue bath bomb dropped in can help, too. Of course, then you'll have to explain why you threw one of your host's bath bombs in the toilet.
Using a toilet brush
Sometimes you won't find a plunger, but you'll almost always find a toilet cleaning brush. You could always use that to clean out the clog.
This method is going to take some elbow grease, and, honestly, it might be gross, so prepare yourself. Hold the handle, push it into the drain hole, and pump back and forth several times. Don't pump so forcefully that you damage the inside of the toilet. It happens more often than you think! After about thirty seconds, stop pumping. Then, you just have to cross your fingers and hope the water starts to drain.
Sometimes, with or without a plunger, drain clogs just can't be fixed without professional help. Next time you find yourself in that situation, call the experts at Mike Diamond and someone will be by to clear things up in no time.