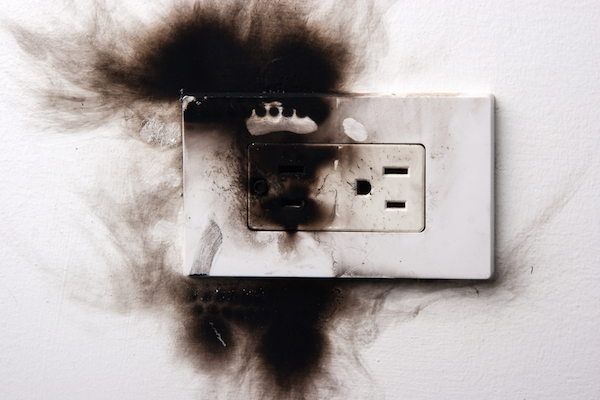 According to the U.S. Fire Administration, 6.3% of all residential building fires in 2014 were caused by electrical malfunction. 6.3% may not seem like a lot, but when you calculate how many fires occurred that year, that adds up to almost 75,000 home fires that could have been avoided by proper electrical and wiring maintenance.
Electrical work can be dangerous and risky as a do it yourself project. It doesn't take a lot of work to keep an eye on potential problems, however. By paying attention to these five signs that your wiring needs an upgrade, you can be prepared to call in the professionals when the time comes to update your home electrical.
1. You notice frayed or bent wires.
You'd think that this would be obvious, but frequently people prefer to avoid noticing warning signs like frayed or bent wires in their homes. General age and use can do this to wires alongside regular corrosion. Nicking, pinching, and piercing from close-by hardware can do similar damage and, once noticed, should be immediately replaced by a pro.
2. You find the presence of heat or burn marks.
When you touch an outlet or switch, it should feel cool or, at the very least, the same temperature as the rest of the room. If you notice the tell tale dark smudging of scorch marks on outlets or find that, when you touch them, they're warm – this is a big red flag signaling that you likely have unsafe wiring in need of an upgrade.
3. You're constantly having to reset your circuit breakers.
If your circuit breakers are constantly in need of being reset, that's usually indicative that they're being overloaded. If your circuits are overloaded by the current electrical output of your home, it means your wiring is outdated and the extra strain could lead to electrical fires or other major problems if not addressed quickly.
4. Your appliances make you feel tingly.
No, seriously. If, when touching an appliance in your home, you feel a mild tingle or slight shock, that's a likely sign of improper electrical wiring. Shocks like this can be caused from static after crossing a carpeted surface, which isn't a concern, but if it happens continually without this extenuating circumstance it's a good time to call the professionals.
5. You've been visited by pesky critters.
When you think rat problem, your first concern is the integrity of your food and home safety, but what about your wiring? If you've had to deal with a rat problem in the recent past, we recommend taking a look at all infrequently viewed wiring because more likely than not, it's been chewed on and might need some TLC.
If you notice any of these major signs or one of many others like dimming lights, an unpleasant burning odor, the presence of smoke from outlets, or curious popping sounds, it's time to call the professionals. Luckily, at Mike Diamond, we only work with electricians that are ready and able to come diagnose and solve any issue you might have. Contact us today to schedule any service you might need, big or small.