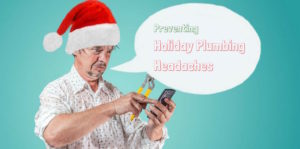 The holidays are prime time for headaches. People are traveling, meeting work deadlines, hosting family, and dealing with stressor after stressor. And all that's without even considering the weather! Nobody wants to deal with plumbing headaches on top of all that.
Here's the good news: you don't have to! Take a look at this list of five easy ways to avoid unnecessary plumbing headaches this holiday season and take heart knowing that your holiday season will be merry and migraine free.
Save That Hot Water!
The holiday season is mainly about family, and visiting family means a lot more people than usual using your home's water supply. This excessive use can lead to your hot water running out at times you might not want it to. You can avoid this problem in a few ways.
First, if you're going to be using hot water for the dishwasher or laundry machine, run them at night when people aren't taking showers. When people are taking showers, have them wait at least 15 minutes before one person finishes before another person goes in to give your water tank a little time to recover.
Put That Garbage In The Can!  
This point is prudent for both your home's bathrooms and its kitchen. Make sure there is an easy-to-access garbage can in all bathrooms so no one flushes anything that shouldn't be flushed. When it comes to your kitchen's garbage disposal, make sure that both yourself and family members aren't putting damaging things like fats, oils, and fibrous vegetable peels down the drain.
Guard That Drain!  
Nobody likes to clean hair out of drains, let alone other people's hair. Ew. Investing in affordable wire drain guards for both your kitchen and your bathroom is a low-cost solution that will help you avoid high-ick clogged drain issues.
Know Your Valves!  
In case of emergency, you're going to want to know where to go in order to shut off your home's water at a moment's notice. Shut-off valves tend to be in different locations depending on the climate you live in.
Most homes in California have outdoor shut-off valves. Look for them on the ground level where the main water line enters the home. Most shut-off valves will be marked by a bright red, easy-to-spot rotary valve. Make sure to find out where yours is and what it looks like before it's too late.
Be Prepared!
Let's be real – if your family is visiting during the holidays a clogged toilet or two is not exactly unlikely. Holidays are all about eating, and we all know what eating leads to.
Make sure you have a high quality plunger on hand. If you feel like being especially prepared, you can purchase an affordable auger like the ones plumbers use in case of an especially serious clog.
Hopefully this list can serve as a dose of holiday plumbing headache prevention medicine. If any problems happen despite your best efforts, however, you don't have to worry. Mike Diamond is always on standby, ready to help whenever you call. Happy holidays!