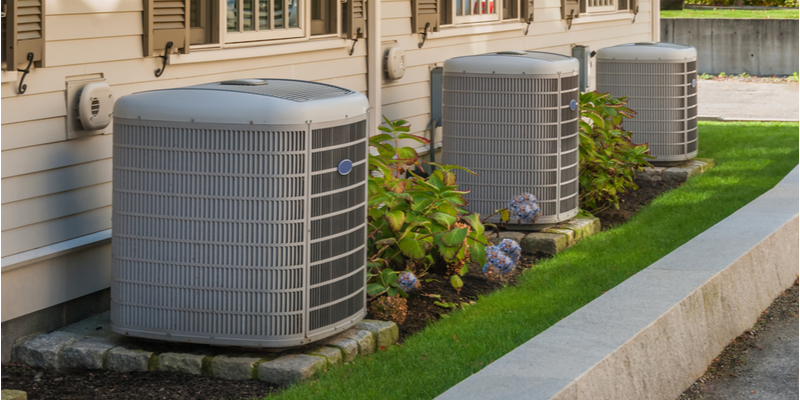 Air conditioning is necessary for life California–especially right now, when 100 degree heat waves are plaguing the southern part of the state. Nothing feels as good as escaping from a mid-afternoon scorcher by stepping into a nice, cooled house.
That's why you want to make sure your air conditioning unit is properly serving your home. Just like all homes are different, all air conditioning systems have slight differences of their own. When selecting an AC system, you'll have to take your budget, your home's size and design, and your desire for flexibility and efficiency into account. There are more options than you might realize! We'll walk you through the pros and cons of each of the most commonly-used air conditioning units. Once you understand what your options are, you can figure out which options are right for you.
Central Air
Central air is the most complex air conditioning unit choice because it usually involves introducing ductwork into your home. When you're building a new home, installing ducts is easy. Unfortunately, in any other case, installing ducts can get complicated.
That said, the cooling power of central air is unmatched. This choice is effective, energy-efficient, and even unobtrusive because the compressor pushes cool air through hidden ducts. It's also the most expensive choice, upfront.
Pick central air if you:
are building a new home
are full remodeling your home
have existing heat ducts
prioritize having an unseen cooling system
are willing to spend more the best possible cooling system
Ductless Mini-Split
Split systems are pricey, but not as pricey as central air. They're more effective than portable or window units, but they're less hidden than central ones. They're a solution for people who don't mind the physical intrusion of wall-mounted units and want superior cooling power.
Ductless mini-split air conditioning systems also offer additional conveniences like room-by-room temperature control. You can also use a single unit to both heat and cool, depending on your needs. This system tends to be especially efficient, because it doesn't need to push air through ductwork to get to the room.
Pick a ductless air conditioning system if:
energy efficiency is your top priority
you're uninterested in having ductwork done
you want to be able to both heat and cool a new space
Window Units
Window units are the air conditioning solution for people living in apartments without central air. They sit in your window frame and pump in cool air while circulating hot air out. They're not as expensive as any of the other options, but they also aren't as efficient.
Pick a window unit if:
you're only looking to cool down a single room
budget is a big priority
you're looking for immediate cooling results
Portable Air Conditioners
A portable air conditioning unit is the most flexible home cooling option. This is for people who want individual room cooling but don't have traditional sash windows. They aren't as efficient as central air or mini-splits, but they get the job done. These units are frequently sleek and stylish-looking. If aesthetics are a priority to you, portable AC can be a good option.
Pick a portable air conditioner if:
you're a renter and can't make building modifications
your windows can't accommodate window units
you prioritize style in your home and want an aesthetically pleasing A/C unit
There are a few additional things to consider when choosing the right air conditioner for your home. Keep size in mind. Even if you pick the best air conditioner on the market, if the room is too big, it'll never properly cool. There are charts available out there to help you determine what size unit you need. You also want to look at the fan settings and convenience features available depending on your needs. If you're a light sleeper, you might want to be able to turn the fan down at night to keep things quiet. If you're budget conscious, you could want a thermostat with customizable on and off times to limit energy use. 
No matter what unit you're interested in, the team at Mike Diamond can help you make the right choice. Give us a call today and we can help you choose the right unit for your home and get it installed quickly and efficiently.