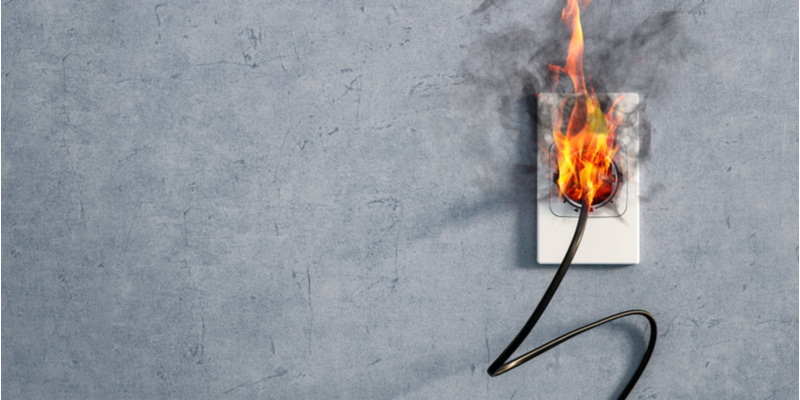 Home electrical hazards are often overlooked or misunderstood. In most cases, they become a problem precisely because homeowners don't realize they're a problem! Unfortunately, electrical hazards and the fires they could start can be a very real problem. 
The best way to avoid disaster is to learn about the common electrical hazards that occur in homes. Check your home for these common electrical hazards and make a plan to fix them as you find them. By fixing each of these electrical hazards, you'll make your home a much safer place:
Outdated wiring.
Safety standards change as technology changes. How old is the electrical wiring in your home? When was the last time you had it professionally inspected? If you can't remember (or don't know!) when your wires were inspected, then there's a chance you're at risk.
Poor wiring is the biggest electrical risk facing any home. Faulty, old, or damaged wiring leads to fires, power surges, arc faults, and more. The older the wiring, the greater the risk; especially if you haven't had it inspected. If you notice discolored outlets or a persistent burning smell, you should look into upgrading your home's wiring. If you don't know how old your wiring is, schedule an inspection right away! 
Overloaded outlets and power strips.
We get it. It's easy to have all your technology plugged into a single strip. It's so convenient! Unfortunately, that convenience is a little too good to be true. If you have too many devices plugged into a single strip, you could overload it and start a fire. 
Make sure you're not demanding more voltage from your outlets or power strips than they can handle. If your outlet usage ever trips circuit breakers or other fail-safes, consider unplugging a few devices. You should also know how old your power strips are and avoid using any that are too old to measure up. When it's time to replace your power strips, look for strips that include a circuit breaker and other safety measures.
Outlets or electronics that are too close to water.
Take a look around your home. Do you have any outlets that are dangerously close to a water source? Water conducts electricity very easily, so even stray voltage could arc through water. If a source of electricity is too close to a source of water, it's much more likely to shock you, start a fire, or damage equipment. 
Be very careful not to place any electronic devices too close to water sources. Never use a hairdryer while standing on a wet floor. Don't bring your phone or any other electronic device into the bath. Make sure all of your home's outlets are completely dry all the time. Basically, keep electricity and water as separate as possible as often as possible.
Children.
Yes, children. Young children can be an incredibly dangerous home electrical hazard, because they're curious. Kids tend to poke around anywhere and everywhere with anything they can find. If they poke around a power outlet with the wrong thing (like a fork), they could seriously hurt themselves.
If you have or host young children in your home, you should take steps to protect them from potential electrical hazards. Cover up all the power outlets in your home with childproof covers. Outlet covers are cheap, easy to find, and definitely worth using. You should also keep potentially dangerous electronic devices out of reach whenever children are around. Remember, if they can find it and pick it up, chances are they will. 
Light bulbs with too much wattage.
All light bulbs use a certain amount of wattage (energy) while turning on and operating. Every light fixture is rated to handle a certain amount of wattage. If a lightbulb uses more wattage that than its fixture can handle, the bulb could overload the fixture's wiring. 
When a bulb overloads a fixture's wiring, the wiring overheats. Over time, this heat could melt equipment and damage the fixture or wiring itself. In some cases, it could even start fires! Luckily, this particular electrical hazard is easy to avoid. Use light bulbs that are equal to or less than the maximum wattage the fixture can handle. The maximum wattage will be listed on the lamp or fixture socket.
As you've probably noticed, these electrical hazards are surprisingly easy to fix once you're aware of them. By fixing each of these problems, you could make your home much safer in a matter of minutes! 
If you find out your wiring's outdated or you need any other electrical help, you can always get in touch with Mike Diamond. Our electrical contractors guarantee safe, effective, and fast electrical services all over California. Stop worrying about possible electrical hazards and call now. We're ready to help make your home safe!