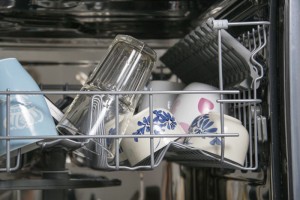 If your favorite bowl probably spends more time in the dishwasher than in your cupboard. But if that bowl is on its second dishwasher cycle in the same day, perhaps it's time to make a change.
What starts as poor cleaning ability can progress quickly into a plumbing nightmare. Instead of settling for less-than-ideal cleaning, check out these tips and tricks for avoiding a dishwasher catastrophe with these dishwasher don'ts. It could be as simple as making a few adjustments.
Dishwasher Don'ts
Don't overload: When you attempt to fit as many dishes as possible into your machine, your efforts won't produce results. Dishwashers should be properly loaded so each dish can be reached with an equal volume of soap and water. Proper stacking and spacing is very important.
Don't assume everything can go in there: In addition to your cast iron skillet, there are a variety of items that are better off washed by hand, including sharp knives, delicate dishes and that small plastic lid. Be cautious of what you load — you might not be able to use an item again if it gets ruined.
Don't use too much detergent: More detergent doesn't mean the items inside will get cleaner. In fact, excess detergent could lead to soap build-up and spots on your dishes. When you use less detergent, you'll spend less time at the store and less money on what you shouldn't need in the first place.
Don't unload the top rack first: How many times have you reached for a glass in the dishwasher, only to realize it's full of water? If you haven't already accidentally dumped it on the dishes on the bottom rack, you might notice a few food particles in there, too. Unload the bottom rack first. It's a simple task that could save you from having to change into dry clothes or having to wipe off all the dishes before you put them away.
Don't place plastic items on the bottom rack: If an item is dishwasher safe, that doesn't mean it's safe anywhere in the dishwasher. Many items could become damaged or even melted if they're placed on the bottom rack. Be sure to read labels. When in doubt, it's better to play it safe and place it on the top rack. Plastics are especially susceptible to damage on the bottom rack of your dishwasher.
Have you made a dishwasher mistake or found an issue your plumbing system? Mike Diamond Services is available to help. Our plumbers have the experience and expertise to help you with drain cleaning, 24 hour emergency plumbing and more. Don't hesitate to contact the Smell Good Plumber — give us a call today to schedule a service to handle your dishwasher don'ts.