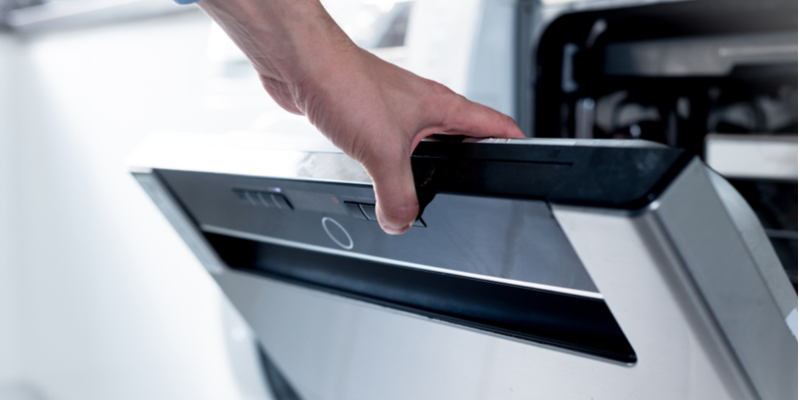 You're a busy person. You've got kids, a job, responsibilities, and a thousand other things to juggle. Because of this, you absolutely need your dishwasher to work at all times. You barely have time to load the thing. You definitely don't have time to hand wash those same dishes if it stops working! 
If your dishwasher does stop working, however, don't panic. The most common problem home dishwasher issues are drainage problems. While drainage problems are annoying, they're far from impossible to fix. These are the most common reasons why dishwashers clog and how you can clear those clogs fast.
Why isn't my dishwasher draining?
Dishwashers can clog in a couple of different places for several different reasons. The three areas of the dishwasher that clog most frequently are:
Hoses.
You'll find the dishwasher's drain hose near the filter baskets. Your dishwasher's drain hose connects to either your sink or garbage disposal. Residue builds up in this tube over time and turns into a clogging sludge. 
Hose clogs affect the performance of both your dishwasher and its connected appliances. Use a flashlight to look into the tube. If you see the build-up, clean it out to clear the clog.
Clogged filters.
The lower filters in your dishwasher (near the sump) are the first place you need to look in case of a clog. If you look inside your dishwasher near the sump, you'll see two of them: A large basket filter and a smaller mesh filter. Almost all the water in your dishwasher drains through these two filers. In the process, these filters catch and collect most of the muck that was washed off your dishes.
Over time, all the muck from the dishes can build up on the filters and create a clog. You can avoid these clogs by cleaning your dishwasher's filters periodically. Simply remove the filters by hand and wash them in the sink with soapy water. Once you replace the filters, everything should start draining properly.
Somewhere else in your plumbing.
Sometimes the reason your dishwasher won't drain isn't because of a problem with the dishwasher at all. If there's a significant enough blockage anywhere in your home's pipes, it could cause backup throughout your home. Is your dishwasher the only thing having trouble draining, or are you having issues elsewhere as well? 
If you're having drainage problems all over your home, you should contact a professional inspect your pipes. Once we find the problem, we can clean out the clog so your pipes and dishwasher start working properly again.

How do I fix these clogs?
The basic answers to solving these dishwasher problems have already been listed under each problem. Sometimes your first attempt at fixing something won't work, however. In some cases, the clog may be too significant. That's when it's time to call in professionals. They'll be able to accurately diagnose your issue and fix it during a single visit.
Clogged dishwashers are more annoying than they are dangerous, but that doesn't mean you shouldn't address them right away. Small problems rarely stay small problems for long when you leave them alone. 
If you notice your dishwasher having trouble, give the team at Mike Diamond a call. We'll get you sorted (so you can de-grime your dishes!) in no time.