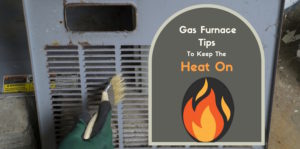 Even if winters don't exactly get Arctic-cold in Texas, it doesn't mean that you want your gas furnace to go out. The best way to avoid the potential trouble of a sudden cold front is to make sure that you commit to regular furnace maintenance. That way, your furnace will always be in tip top shape and ready to protect you from the chill.
Here are ten of our best furnace maintenance tips to keep the heat coming and the winter out:
Ensure you are working under safe conditions
Before you do anything, make sure you're working safely. Gas can be quite dangerous if you don't handle it correctly. Before you begin any furnace maintenance, make sure you turn everything off. If you're not 100% sure what you need to turn off to get the work done, trip the main circuit breaker to verify your safety during the maintenance process.
Finally, if you smell gas at any point, don't try to shut anything off or turn it on–instead, leave the premises immediately, have a professional flush the gas from the house and fix the leak before you do any more work.
Take care of the filtration system
A gas furnace's filter system prevents dirt from entering the unit and building up, which leads to frequent malfunctions or even fires. Check your filter at least once every couple months. If you feel your filter looks overly clogged, they're easy to remove and replace.
Double check your thermostat
If the temperature on your thermostat doesn't match with the way the temperature feels, you may have one of two furnace-related problems: either the thermostat itself has stopped working or there's some sort of disconnect between the wall unit and the furnace. Either way, if this is happening repetitively, your best bet is to have a professional assess and fix the problem.
Clean the blower
After checking to make sure the filtration system is working properly, the next thing to check on is the blower. The blower is actually a bit further inside that the air filter, so you'll able to see it when you change the air filter. All you have to do is wipe it down with a damp cloth every time you change the filter. Cleaning the blower prevents dust or dirt that may have escaped through the filter from getting further inside the furnace.
Regularly check and clean your vents
All gas furnaces have a venting system that prevents unsafe heat build-up. Just like with anything else that never moves, dust builds up both on and within furnace vent systems. Clean them with a scrubbing brush, vacuum cleaner, and damp cloth to ensure their continued effectiveness.
Inspect the fan
This part of the maintenance is best left to a professional, because it isn't as easy to get to the fan within the furnace as it is to get to everything else. A yearly inspection is your best option. Getting your furnace inspected helps you keep up with part changes and cleaning needs before small problems get big.
Keeping your furnace clean is quickest way to extend its life and keep it from breaking down on you when you need it most.
Not everyone is up to this level of DIY maintenance. That's totally okay! Whenever you need us, the trained professionals at Mike Diamond are ready and waiting to help you out.