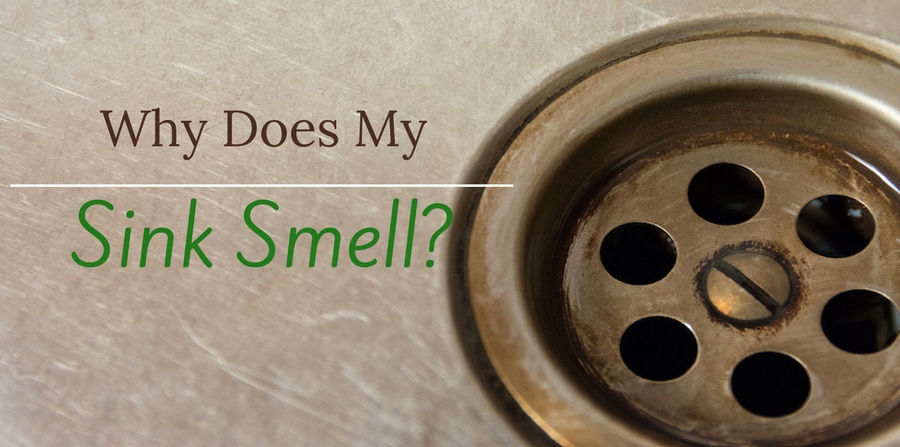 Do you have a mysterious, unpleasant odor in your kitchen? Something that doesn't go away, no matter how many how many times you mop or take out the garbage? Check your kitchen sink.
We don't think about it, but the kitchen sink might be the hardest working plumbing appliance in the house. If there's a problem with it, chances are the food you run through the disposal or the grease you rinse off dirty plates isn't being properly removed from your house.
When food or grease gets caught in your kitchen sink's pipes, it begins to rot. Rotting food or other debris caught in your kitchen sink can produce terrible smells. Even if you don't have a disposal, the kind of stuff that drops down the kitchen sink's drain can collect and start to smell surprisingly quickly. If your kitchen sink has an odor you just can't scrub out, here are a couple explanations and what you can do about it.


Grease in the Drain
If you pour cooking grease or vegetable oil down your kitchen sink's drain, it can congeal to the sides of the drain, disposal, or lower pipe. Then, the grease starts to decompose, and a rotting smell wafts back up out of the sink and into your kitchen. Once the grease collects on the sides of the drain, it can even catch food and other debris, making the smell even worse.
Scoop about a cup of baking soda into your kitchen sink's drain. Follow that up with about as much vinegar, then let it sit for about ten minutes. While the mixture is doing its thing, boil a pot of water. When about ten minutes have passed, dump the boiling water into the sink.  Hopefully, the baking soda and vinegar will foam up and eat away the grease in your drain, and then the boiling water will help it along out of the drain.


Dirty Garbage Disposal
Sometimes, scraps of food or other gunk can catch on the garbage disposal's blades. The food rots and starts smelling. This will happen more often if your garbage disposal sees heavy use, if you use it while running hot water or no water at all, or if it's getting old.
Grab about two cups of ice cubes and a cup of salt. Turn on the kitchen sink's cold water and run the disposal for about 20 seconds. After that, dump the cups of ice and the salt into the disposal. Let the disposal keep running until all the ice cubes are gone. Cutting up the ice in cold water should have helped clear away the gunk caught on the blades. If you want to do something extra about the smell, drop lemon, grapefruit, or orange rinds down the disposal while you're running it with the ice. You could also add lemon juice and vinegar at this point.


Problem with the Trap
If your kitchen sink smells more like sewer than rotten food, there might be a problem with its trap. A kitchen sink's trap is the 'P' or 'U'-shaped pipe directly beneath the sink basin. The trap's job is to prevent sewer gas from drifting from the pipes back up into your house.
Usually, a sewer smell means that the water in the trap that blocks sewer gas has evaporated. This can happen if the sink hasn't been used for awhile. If that's the case, all you should have to do is run the sink and let the water fill back up in the trap. Watch the trap while running the water to make sure it isn't leaking. If that doesn't fix anything, you can also take the trap out pretty easily. Empty it out, scrub it down with an old toothbrush and a cleaning agent, and replace it. If the problem persists, give us a call. If you can't find your trap, really give us a call!


Clogged Vent
If there's a sewer smell coming from your sink and you don't think the trap is the problem, the next most likely culprit is the vent. The plumbing drain vent is basically a long, narrow, vertical shaft connecting your main sewer line to the outside air. This shaft vents stabilizes pressure inside the pipe connecting to your sewer. Without it, water may siphon out of your sink's trap, letting sewer gas in.
Plumbing vents are usually located on the roof of the house. When they're not working, it's usually because something is obstructing it, such as a bird's nest or a piece of flying debris. There could also be a leak in the vent's shaft, which would interfere with its pressure mitigation or could even let sewer gas into your house. In either case, you may want to consider calling a professional. Clearing a vent obstruction may not sound like a big job, but roof jobs are always trickier than they seem.
If your kitchen sink smells, odds are you have at least one of these problems. Try these quick fixes and see if any of them help. If you think the problem could be a simple clog, you could also try plunging with a cup plunger. If you've tried everything and you've still got a bad smell, give us a call. With our pipe cleaning technology and years of experience, we guarantee we'll find and solve your problem and get your kitchen smelling fresh again.