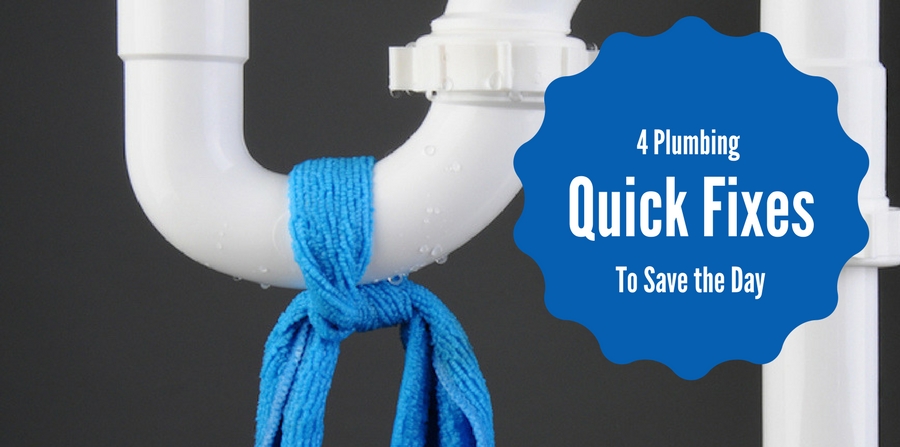 If a pipe bursts or an appliance starts leaking, you can't afford to wait any period of time for a plumber. Water is pouring out everywhere now! While we like to think we're very quick responders, we haven't quite cracked teleportation yet.
Until we do, you've got to find some way to prevent your plumbing problem from doing damage to your house while you wait for professional assistance. Here are some easy, quick fixes you can do to minimize damage before we get there. These simple stop-gap solutions may not sound like much, but they could save you hundreds of dollars in damages!  

Leaking Pipe
No matter how small a pipe leak is, you don't want water pouring out into your home. Unaddressed leaks tend to grow, too, so small problems won't stay small for long. Luckily, there are plenty of home plumbing tools designed to help you make quick fixes to prevent disaster. Whatever you go with, start by turning off the water and measuring your leaking pipe's circumference.
Go to the nearest hardware store and purchase an epoxy compound if you have iron pipes, or a pipe clamp or wrap if not. You apply epoxy directly onto the leaking pipe, like you would with caulk or plumber's putty. The epoxy will temporarily form a seal over the leak. Clamps and wraps are even simpler; you just affix or wrap them around the leak, and they hold in the water until you can get the pipe replaced. Remember that none of these three products offer a permanent solution. While they function admirably as quick fixes, the only foolproof way to be rid of a plumbing leak permanently is to replace the pipe.  

Leaking Pipe Joint
Leaking pipe joints are a little trickier than normal pipe leaks, because the angle of the joint can make quick repairs awkward or ineffective. Luckily, there are a few tools designed specifically for administering quick fixes to vexing leaks like these. Repair sleeves and rubber pipe connectors are flexible enough to wrap around a leaking joint, pressing in on it to squeeze water back through the pipe system.
You'll have to cut rubber pipe connectors for them to be effective, so measurement is important here too. The rubber of the connector resists water if it's wrapped tightly enough, but it won't last forever. Similarly, repair sleeves work really well on smaller joint leaks because they clamp down on the leak with a lot of pressure. Over time, however, the leak may grow wider than the sleeve. In a real pinch, you could supplement either of these tools with duct tape, but keep in mind how temporary a solution it would be.

Cracked Porcelain
Toilets, bathtubs, sinks, and showers can crack or break just like anything else. Unlike everything else, however, these appliances are sometimes full of water. It's easy to panic if the bottom of your toilet cracks open and starts flooding your bathroom. In cases like these, you need to prevent the leak from damaging the floor as quickly as possible.
This is where our old pal plumber's putty comes in. First, apply plumber's putty to the inside of the leak. Try to squeeze it in as snugly as possible. Plumber's putty naturally resists water, so it should hold for long enough. After you've squeezed the putty in as much as you can, you should apply caulk right over the top of it. The caulk will help form a secondary seal and lasts longer than plumber's putty will, but it would be hard to put on without the putty. Neither the caulk nor the putty will last forever, however, so consider having your toilet, sink, or tub replaced once it cracks.

Faulty Water Heater
If your water heater isn't working very well, it's probably because sediment has collected in the tank. When a layer of sediment builds up at the base of a water heater tank, it blocks the heating element. The water heater wastes time and power trying to heat through the sediment. You don't get hot water as quickly, and your water heater becomes strained.
All water heaters need to be replaced eventually, but flushing your tank can extend its lifespan significantly. First, turn off the water heater. Run hot water in a sink for about 10 minutes to drain the tank of hot water. Shut off the cold water supply on top of the tank, and then attach a garden hose to the drain valve. Make sure the hose leads to the nearby floor drain. Re-open the cold water supply WITHOUT closing the drain valve or disconnecting the hose. Watch the water drain until you can't see sediment discoloration in it.
No matter how minor or significant your plumbing problem, you should get it taken care of quickly. The longer a problem lasts, the more damage it can do and the more expensive it can become.
If you have any of these problems, try these quick fixes and then call us right away. We can fix them quickly, effectively, and permanently. We can fix all kinds of other problems, too–just let us know. Good luck with your fixes!