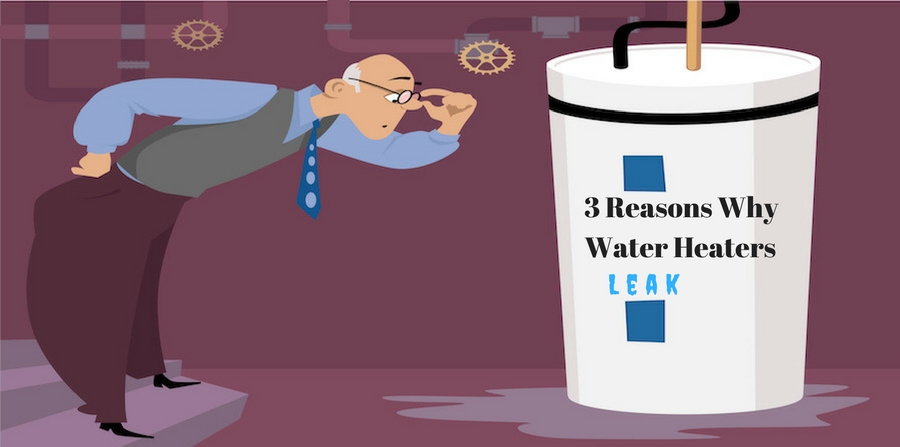 Nobody likes standing ankle-deep in cold water as they wonder what the heck is happening. Or suddenly feeling water dripping on their head from the ceiling while lounging on the couch. Or having water ruin their carpet, photos, comic books, or valuables. That's why we put together this list of problems that lead to water heater leaks – and how to avoid them.
Rust
Most water heaters are made of steel. Steel is mostly iron, and – you guessed it – iron rusts. Water heaters have a safeguard called an anode rod to prevent rusting, but over time your anode rod could wear down or fail. If you notice that your hot tap water is a gross, rusty brown color we recommend contacting a professional about getting your water heater's anode rod replaced.
Sediment Buildup
Most homes have hard water running through their water heaters. Hard water has small amounts of minerals floating in it. Over time, these minerals can start to settle at the bottom of your water heater's tank, building a layer that blocks the water from accessing the burner.
What does this mean? It means that it takes longer to heat the water, leading to overheating and general deterioration. That deterioration can lead to a leak or even a completely burst water heater. Fortunately, you can avoid this problem by making sure you flush the tank to drain out any built-up sediment at least once per year.
Air Pressure
Excess air pressure builds inside your water heater's tank when the temperature is too high or the pressure of the exterior water coming into your house is too strong. Avoid these problems by making sure to set your water heater no higher than 120-125 degrees.
Additionally, we recommend keeping an eye on your water heater's temperature and pressure relief valve. It's on the top or side of your tank and releases pressure from the heater's tank when necessary.
Time
Hot water heaters last approximately 8 to 10 years. During the end of their life cycle, basic leaks are more likely to happen due to general wear and tear. Corrosion, years of sedimental damage, and the unavoidable damage of aging can cause these potential leaks.
Can you remember when you got your hot water heater? If your answer is a.) "yes, and it was a really long time ago," or b.) "it was so long ago that I, in fact, don't remember…" -it's probably time to replace your water heater.
Water heaters aren't the only home appliance that the team at Mike Diamond can help you take care of. If your plumbing, heating, cooling, or electrical appliances ever break down, don't shoot yourself in the foot by waiting too long to get things fixed. Call us today at 1-800-446-6453 or schedule a service online so you can keep your home and your family safe and secure.