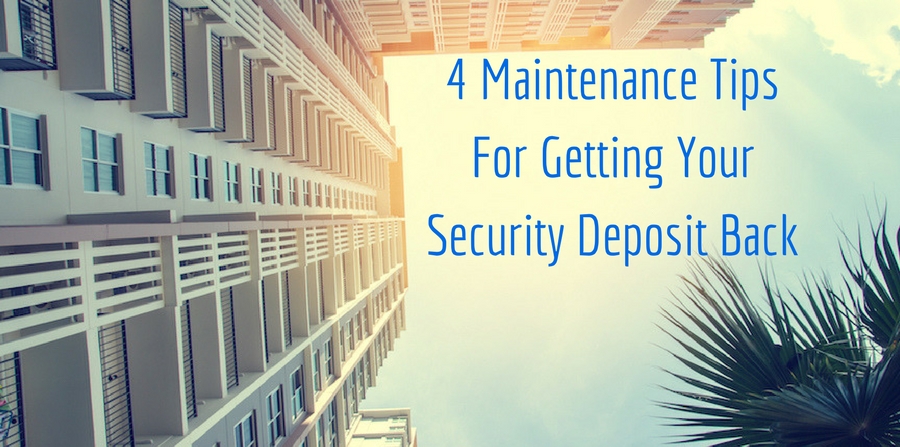 Security deposits shouldn't be hard to get back, but it can really feel like they are. It's surprising how much damage can build up in a living space over time, especially if you're living with other people. You totally forgot about that time your roommate's boyfriend got drunk and put his foot through the drywall… until you moved the couch and saw the size-10 hole.
The fact of the matter is, a lot of landlords will look for any excuse to hit you with a security deposit charge. That's why you need to give them no excuses. Here are a couple good ways to make sure you get to take your whole security deposit with you when you leave.


Document, Document, Document
If you've had good building managers in the apartments you've lived in, you're probably used to this particular lecture. Nevertheless, it really is important: when you move into an apartment, fill out the damage assessment report very thoroughly. Remember: as far as the landlord is concerned, any damage you didn't report when you moved in is damage you did.
Nothing is too small to mention. When in doubt, mark it down. Take plenty of pictures while you're at it. Grab shots of nicks on the wall, stains on the carpet, dents in piping–whatever you can find. Have someone help you look for damage and move slowly. Make sure you're satisfied with your reporting before you hand off the document to the manager. You don't want to pay for a problem you didn't make.


Clean Up
Never underestimate the power of a tidy room. If your apartment is dirty when the landlord comes for their inspection, chances are they'll look for damage that much harder. Even little things like dust and crumbs in the carpet can help contribute to a landlord's excuse. A lot of landlord's even hire clean up services for dirty rooms, and then stick you with the bill.
Before you move out, you and all your roommates should have a cleaning day. Go through each room as thoroughly as you can. Vacuum, sweep, dust, mop, scrub down the walls, and repair or replace anything broken or missing. Not only will cleaning improve your chances of keeping your deposit all on its own, you can also use your cleaning day as an opportunity to look for repairs you missed. It might sound like a lot of work to put into a place you're leaving, but the effort might pay for itself.


Sweat the Small Stuff
It can be easy to forget about little scrapes and smudges that naturally happen to walls over time, but your landlord certainly won't. The last thing you want to have happen is to spend hours cleaning on your apartment, only to be told your landlord is deducting $300 for a mark on the living room wall.
While you're cleaning, look for anything small you may have missed while you were making your initial repairs. Stains in carpeting often go overlooked, for instance, or smudges left behind when furniture was moved. Dealing with little problems now can save you a lot of money in safety deposit charges when you move out, so it's often worth it to get a little anal-retentive. If it helps, imagine the look on your landlord's face when they can't find anything to charge you for!


Watch for Plumbing Problems
You knew we had to get to this one eventually, didn't you? Plumbing problems are goldmines for landlords, because it's so easy to make a case and, ultimately, to charge you whatever they want. Don't give them that opportunity by paying especially close attention to your apartment's plumbing before you leave.
Clean the toilets and sinks and plunge their drains. Make sure the dishwasher is clean and functioning at 100%. Inspect your pipes for signs of corrosion, breakage, or weakness. If you find any, have us come help you out before the inspection. We can perform a full inspection of your apartment's plumbing and make recommendations on how to improve it so you won't get stuck with a huge bill. We can even point out places where leaks or ruptures cost water damage so you can get them fixed.
Moving to a new place is expensive and stressful. Of all the times in your life that it would be helpful to get some money back, it would be now. Don't cut corners on your apartment cleaning and think the landlord will cut you some slack.
Don't worry, though: if you go all-out with your roommates and make sure the landlord's got nothing on you, you'll get your deposit back. In fact, working together to make sure you all get your money back can be a nice way to say goodbye. Just make sure you don't make a new mess while you're having fun picking up the old one. Good luck with your move!