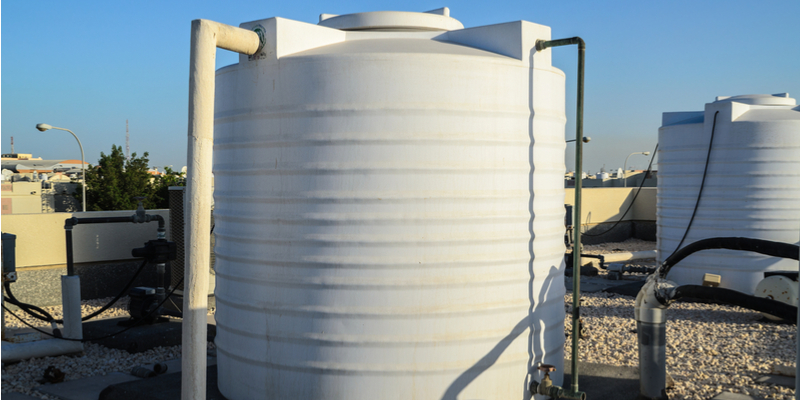 Founding father Ben Franklin once said, "By failing to prepare, you are preparing to fail." While we're not positive he was referring to water storage tanks, there's no proof that he wasn't. If he was talking about the importance of having a water storage tank, he's right. If he wasn't, well… he's still right.

It's always best to be prepared for emergencies, especially water-related ones. DOUBLE especially when you live in California. Having a water storage tank on your property can save your life. It can be the difference between peace and panic when drought, natural disaster, or other unpredictable disasters happen. When choosing the right tank for your home, there are things to consider and questions to ask. We've listed them all for you below:
How do I choose which size tank to get?
Start by considering how many people you plan on supporting with this backup water supply. FEMA has determined emergency water needs for the average person to be approximately one gallon per day. That includes both drinking and sanitation. Keep in mind that this calculation doesn't take into account extraordinary situations like medical emergencies or especially hot climates. In other words, you'll need a gallon per day for each person, and maybe a little extra besides.

Next, consider how many days the backup water storage may need to support the people relying on it. Multiply the gallons per person by that number of days. If you want your backup to supply water to three people for two weeks, for instance, it should be 42 gallons. Again, you should keep in mind the unexpected. 42 gallons would be exactly big enough to last three people two weeks, but you'd probably want more. Just in case.

If you want to skip the mental math, here's a basic guideline: have enough water to support everyone for two weeks, and then double it. This means an average family of four should look for nothing smaller than a 200 gallon tank. 200 gallons cover basic needs and extenuating circumstances for two weeks. There's never any harm in going bigger if you have the room for it, though.
What are some of the best tanks currently on the market?
There are a lot of different water storage tanks available on the market today. If you'd like to defer to an expert, you can always just call a local plumbing company to help. If you'd like to do a little research on your own first instead, we totally understand.

If you're looking for a tank that has a low impact, for instance, there's the AutoPot Flexi Tank. Available in 105, 200, and 265 gallon sizes, it's versatile. It's also different than many traditional tanks because lightweight and collapsible so it's easy to set-up, use, and move. The main problem with Flexi tanks is they don't get as big as some people might be looking for. There are plenty of traditional tanks out there. The RomoTech horizontal that goes up to 550 gallons, for instance.
Who can I call about getting one installed in my California home?
Give Mike Diamond a call! We can help you avoid the hassle of acquiring, installing, and filling a water storage tank in your California home. The fear of drought doesn't have to be distressing when you have a backup!