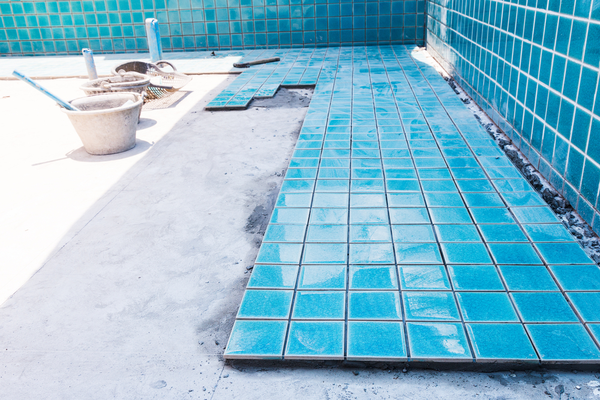 There are an estimated ten million plus residential swimming pools in the United States. Of those, over one million are found in California. If you've ever seen Joseph Lee's, "Big Atlas of LA Pools," you'll know that there are forty-three thousand of those pools in the Los Angeles Basin alone! 
If you're one of the many locals interested in beating the heat by installing an inground pool of your own, we don't blame you! As LA continues to get hotter, there's nothing better for combatting that heat than a dip in your backyard pool. That said, there are important things to consider before you get a pool installed, including the proper plumbing. If you're considering installing a pool, here are eight questions to get your started.
1. Do you have utility lines running under your property? 
If you have access to your home's building plans, check them out. You need to know if any water, sewer, gas, electrical, or other utility lines run through your backyard.
If you don't have your home's building plan, get in touch with the local records office or ask your real estate agent. It's not always possible to divert utility lines to make room for a pool. You'll need to find out if you'll be running into utility lines before your pool installer starts digging.
2. Do you have power lines running over your property? 
According to the National Electric Code, pools under power lines must have at least twenty-two and a half feet of clearance from the water to the linel to avoid electrical hazards. Some companies will not install pools under power lines at all depending on the location. Before you start any inground pool installation, find out if you have power lines above the area where you're installing your pool. If you do, make sure the clearance is sufficient.
3. Will you need to landscape your yard?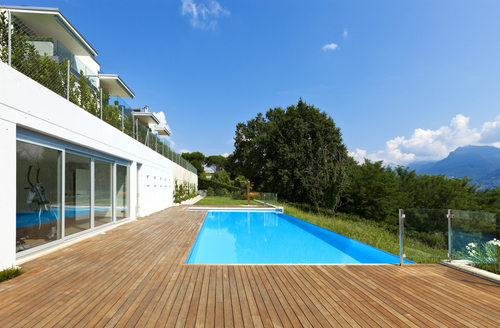 If your backyard is flat, you're good to go. If you live on a hill, however, things get a bit more complicated. You may need to build retaining walls or other safety features to keep your pool from affecting the surrounding landscaping.
Safety features like these can drive up the cost of pool installation by tens of thousands of dollars. We recommend facturing these expenses well before you get started.
4. Would natural or local restrictions prevent pool installation? 
Naturally occurring factors could prevent you from installing a pool in your backyard. If you live close to a large body of water, for example, the water table may be too high to accommodate an inground pool. If your home is within a wildlife or research protection zone, you may not be able to install a pool for legal reasons.
In some cases, you may need to submit a special request to your local government to install a pool. To find out what kind of approval process you'll have to go through, get in touch with the local chapter of the U.S Fish and Wildlife service.
5. Is your home in a historic district? 
If your home is in a historic neighborhood, you may not be able to install a pool. Research or get in touch with the city government to figure out if your neighborhood has any special restrictions.
6. What are the pool enclosure requirements in your neighborhood? 
Certain cities have specific rules regarding enclosures for inground swimming pools. These laws are meant to protect against pool-related accidents. You can find out what your local laws are by contacting city hall and asking about pool enclosure requirements.
7. How much will your inground pool installation cost?
Inground pools are not cheap. They typically cost between twenty-five and thirty-five thousand dollars. This doesn't take into account additional costs like fencing, maintenance, and accessories. Remember, you'll be taking care of your pool for 20 years or more if you stay in your current home. Before you start making the margaritas, make sure your pool budget matches the actual cost. You may be able to get a pool loan or financing through your bank.
8. Will you need inground pool plumbing? 
With a swimming pool comes a swimming pool plumbing system. There are pipes to bring water into the pool, valves to control water flow, filters, and other pieces. Maintaining that infrastructure requires a trusted local plumber who knows the building codes and understands your water needs.
Get Water to Your New Swimming Pool
If you're looking into plumbing an inground pool in your California backyard, give Mike Diamond a call. We can make sure that the plumbing portion of your pool installation meets local requirements and is issue-free. We can also add outdoor showers, water spigots and other plumbing amenities to make your pool area more functional. Trust the plumber that has kept Los Angeles homes cool and safe for over 40 years.