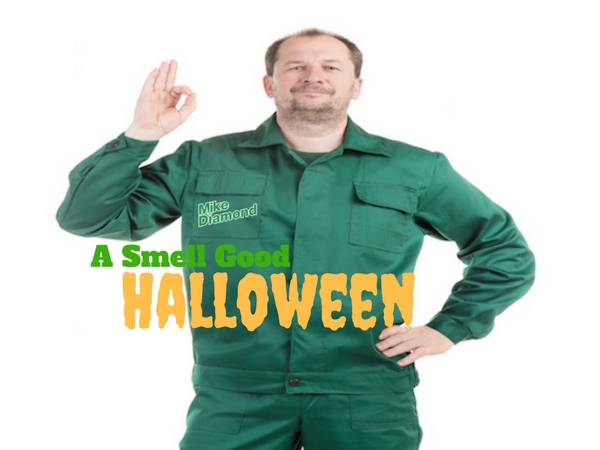 It's Halloween time again, and you're scrambling for a costume. You don't want any boring, old costume like a sexy vampire or a sexy firefighter. Have you considered dressing up as your favorite plumber this year? No, not Mario. Why does everyone always say Mario? Frankly, we don't even think he's a real plumber, or at least not a very good one. We're talking, of course, about Mike Diamond Plumbers!
But we get it: you have to make sure your costume is different from a regular, run-of-the-mill plumber costume. After all, that's what you went as last year. You don't wanna get drawn into a plumbing-corner. Fear not! A Mike Diamond Plumber costume won't be anything like your regular plumber costume, because Mike Diamond plumbers aren't anything like regular plumbers! Here are several of ways you can make sure you're authentically depicting the best plumbers in the business, so everyone can tell you apart. This Halloween, you'll really mop up the costume competition! (Where are you going?)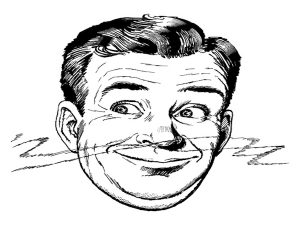 Smell Good
This is paramount. Mike Diamond isn't known as "the smell good plumber" for nothing. We suggest some perfume or cologne, maybe some nice, fruity soaps. Make sure you take a hot shower and clean your Mike Diamond look-alike uniform right before each Trick-or-Treat outing, just like we do before every job. Your uniform must be spotless! For bonus points, you could pack another, identical and equally aromatic uniform. After all, our plumbers always keep an extra uniform on hand in case theirs gets dirty. We gotta smell good, that's kind of our thing.
If you're doing it right, you should have people commenting "wow, that trick-or-treater smells great. That's the kind of upstanding young person I could see doing a great job handling any of my plumbing, HVAC or electrical needs! I think I'll give them extra candy!"
If you're considering dressing up as a Mike Diamond plumber and you don't smell great? Don't even bother. No one will be able to recognize you anyway. The nice people you afflict with your trick-or-treating will be like, "that's the worst Mike Diamond costume we've seen all night! You smell terrible! Get out of here! No candy for you!" And we'll agree with them. You don't deserve candy, smelly.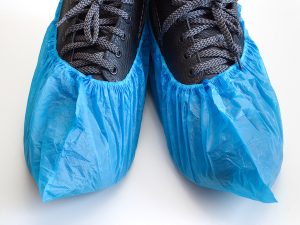 The Right Accessories
Alright, so you smell good. You've got a squeaky Mike Diamond lookalike uniform on. But a uniform and a pleasant smell does not a Mike Diamond plumber make. If you really want this uniform to land, you've got to go further. Two simple things will set you apart even more: latex gloves and shoe covers. Mike Diamond Plumbers wear latex gloves between all their jobs, to make sure they stay clean and sanitary at all times. If you're not wearing the latex gloves, you could be some other plumber. Why would you want to dress up as some other plumber on Halloween? Not a very inspired costume.
Now that you've authenticated your hands, it's time to move to your feet. When you're stepping up on your mark's doorstep, make sure you're wearing shoe covers. Whenever a Mike Diamond plumber enters a customer's house, they make sure to don these protective shoe slippers to make sure they're not tracking in any dirt or grime. Getting some of these slippers for yourself will demonstrate your commitment to the Mike Diamond costume, and will really up your Halloween game. Plus, when you roll up to people's houses to grab that sweet candy, they'll notice your slippers and think "what a conscientious young trick-or-treater. I think I'll give them extra candy!"

All the Tools of the Trade
Now, we guess if you really wanted to, you could just bring along a plunger when you go out. That's arguably the most iconic plumber's tool, after all. If you brought the plunger, you'd be sure to get a mild, bemused reaction and a modest donation of candy for your trouble. Does that really sound like something a Mike Diamond plumber would tolerate, though? A mediocre Halloween and a mediocre costume? No way!
Mike Diamond plumbers never show up to a job with just a plunger or a wrench. Instead, every plumber drives a fully-stocked truck containing all the tools necessary for handling virtually any home repair need. Mike Diamond plumbers always have the tool for the job. Now that being said, we understand that a truck is not traditionally part of a Halloween ensemble. Meet us halfway: Bring along a toolbox. Show off those worker's tools. Mike Diamond plumbers are always prepared to tackle any home repair problem that could confront them, and so you have to be prepared to handle any trick-or-treating problem that could confront you. All those tools will look really impressive held aloft by your toned, muscular arms, too. The people passing out the candy will say, "Wow, look how strong that intrepid young trick-or-treater is! I think I'll give them extra candy!"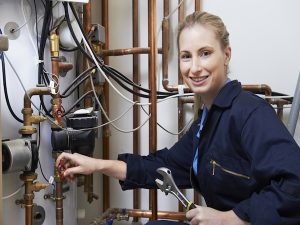 A Big Smile
Last, but certainly not least: be friendly. Don't just don the uniform and call yourself a Mike Diamond plumber; embody the spirit of the costume. It's no different than any other costume: when you dress as a spooky ghost, you say "oooh" and chase your sister around. If you dress as a zombie, you eat human brains. When you dress as a Mike Diamond plumber, you're always friendly and you put your customer (or in this case, the person whose candy you're taking) first.
When you get to the door, add a "sir" or "ma'am" when you shout "Trick or Treat!" and then smile really wide and show off those pearly whites. When you receive the candy, say "Why thank you, sir/ma'am! Is there anything else I can do for you? Might I offer you some candy as well?" This courtesy and customer service is how you'll really drive home that you're a Mike Diamond plumber. Don't worry–we don't think they'll take you up on your candy offer. In fact, they'll probably say, "why, no one's ever asked me if I wanted anything. That's so sweet! I think I'll give you some extra candy!"  
As you can see, dressing up as a Mike Diamond plumber for Halloween is a commitment. When you put on that spotless uniform, you are accepting a small part of the responsibility that our Feel Good Plumbers take on everyday–the responsibility to be the most professional, most knowledgeable, most courteous, and best smelling plumbers in the business. If you want some more tips on how to make your Mike Diamond costume better, or if you have any plumbing, HVAC or home repair troubles, be sure to contact us. We'll get the job done right, and you don't even have to give us extra candy.