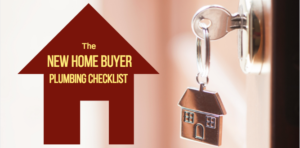 Purchasing a new home, whether it's your first or your fortieth, is a big deal. There are dozens of different things to consider, be in charge of, and manage. In many cases, the status of the plumbing in your abode is one of the last things on your mind. It shouldn't be, though, because your home's plumbing is like it's nervous system – if it's not working right, nothing will.
This new home buyer plumbing checklist will help make sure you're on top of your home's plumbing, now and in the future. Run through each item, one by one, and make sure everything's working the way it's supposed to be.
Flush the toilets.

How do they run? Do they run too long? Is the flush weak or do you notice any dripping or leaks?

Inspect the water heater.

Do you see any obvious signs of corrosion or pooling water beneath it? Ask the previous homeowner when it was installed and the last time they professionally serviced it. It could be overdue for some maintenance. Regular water heater maintenance can be the difference between a leaking heater and hot showers that actually last.

Use all of the fixtures and check the water pressure.

This includes sinks, toilets, showers, and water-using appliances. What you're checking for here is overall water pressure. This will help you figure out if the whole home has any low-flow problems.

Inquire about the age of the home's pipes and how old they are.

Different pipe materials have different lifespans and weaknesses. For instance, steel pipes last the longest but they are the most sensitive to corrosion. Copper pipes last almost as long and tend to be more adaptable.

Make sure you know where the shut-off valve is and that it works.

You're going to want to know where your main water shut-off is in case of emergency. You're also going to want to know that it actually work. We recommend testing it out once or twice when there

isn't

an emergency going on.

If you have a garbage disposal, throw some ice cubes in it and give it a run.

This gives you a chance to help clean the blades with the ice and check that it's working properly at the same time.

Examine the connections on all your water-using appliances. This includes your
dishwasher and washing machine – their hoses leak frequently. Check for any bulges or signs of obvious wear and tear so you can prevent leaks instead of react to them.
Check to make sure the gutters and downspouts are working properly.

You're going to want to know that the drain system works before a huge storm hits. Check to make sure there aren't  blockages in the system and remove them if you find any. Nobody wants to start their first summer in a new home with a flooded basement.
As a new homeowner, your main priority is going to be safety. Keep the integrity of your pipes, water heater, and water pressure gauge at the top of your list. The rest is just the sort of maintenance that help you prevent damage and save money.
When you need a company to help with any plumbing issue that comes your way, look no further than Mike Diamond. Congratulations on your new home!