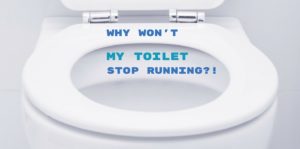 Why is your toilet running? Well, maybe it signed up for a 5k! Ha! Ha… ha? Bad jokes aside, a running toilet is one of the most perpetually annoying plumbing problems a homeowner can face. Luckily, the solution to a running toilet is much more simple.
Toilets work the same way they have for just about always. When you push the handle down, water fills the tank. That water lifts a float, which turns the water off when the float rises to a certain level. When you depress the handle of the toilet, a lever connected to it opens the flapper inside the tank. When the flapper opens, it reveals a hole leading to the bowl and triggers the flush.
The problems that happen during this process have been the same for a long time, too. Most of these problems – including the notorious running toilet – can be solved quickly. Just try these four steps:
Check the fill tube
Take the top off of the tank and find the fill tube. It looks like a small, flexible tube that connects the fill valve and overflow tube. Is it attached properly? If not, make sure to reattach it. If the fill tub isn't where it should be, it can lead to weak flows and constantly running water.
Adjust the fill height
Check the float. Adjust it to set the water level properly. If it's too low, the flush will be too weak. If it's too high, water will spill into the overflow tube. When that happens, the valve won't shut off, leading to a constantly running toilet. There should be a mark on the inside of the toilet tank telling you where the float should be to keep the toilet working properly.
Adjust the flush handle or flapper as needed
The last thing that can lead to a running toilet is a problem with the flush handle and flapper chain. If the flapper's chain is too short or it gets tangled, the flapper won't close and the toilet will cycle endlessly.
You want the chain to be slightly slack when closed without any excess. Check to make sure it looks right while you're looking into everything is. If the chain looks too slack or too tight, adjusting it is easy.
Get the flapper replaced
If you've done everything else here and you're still having problems, it's probably time to replace your flapper. If you're a confident DIY plumber, you can do this yourself, but we recommend calling pros in to take care of it (so you can avoid any potential floods or breakage).
Speaking of pros – the trained team at Mike Diamond is always happy to help with any of your home plumbing problems. Including "catching" your running toilet.