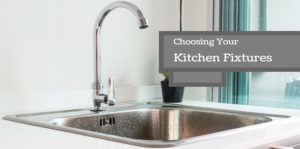 The kitchen is the heart of the home. It is the place where family gathers to eat, drink, and generally enjoy one another's company. In most houses, it's one of the most frequently used and seen rooms. Because of this, the fixtures you choose for your kitchen are important, both for how they look and how they function.
The process of choosing the right fixtures can be difficult, which is why we've put together this guide. Here's everything you need to choose kitchen fixtures that look great, function well, and fit your home's needs.
Function
Only choose a faucet that has the EPA's WaterSense label.
The United States Environmental Protection Agency has a water efficiency program called WaterSense. The goal of this program is to save water and improve efficiency in homes across the country.
Fixtures that bear the WaterSense label hit several important goals. First, they perform at least as well or better than less efficient counterparts. Second, they're at least 20 percent more efficient than comparable products. Third, they realize water savings nationwide, providing measurable water savings. Finally, they achieve efficiency through the use of modern technological advances.
Consider the different varieties of faucets and how you will use them.
There are many different faucet designs out there, and the faucet will be the main plumbing fixture in your kitchen. When it comes to the faucet's function, you'll need to think about how you use your kitchen and which option is best for you. If you're especially concerned with the spread of germs, look into hands-free faucet options. If you need a lot of work space, a faucet with a high arc will probably suit your needs. Before making any decisions, make sure to sit down and figure out what your priorities are and then choose accordingly.
Style
Check out current trends, but don't feel like you have to follow them.
A good example is the recent resurgence of farmhouse sinks. Maybe it's the right option for your home, maybe it isn't. Take your time by looking around both online and in home stores. Try out different faucets and sinks in person.
If you want to take an extra step you can always make lists or a design board on a website like Pinterest to help you collect your thoughts, likes, and dislikes in one place.
No matter what fixtures you end up choosing for your your home's kitchen, the team at Mike Diamond is happy to help you install them. Give us a call anytime!