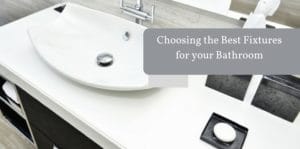 The fixtures you choose for your home's bathrooms make a big difference in the way your bathroom functions, stylistically and functionally. But how do you know where to start looking?
It can be hard to choose the right plumbing fixtures, which is why we've put together this guide. These tips on style and function will help you find the fixtures that look great and work even better.
Function
Consider a low-flow shower head.
Compared to a regular shower head, a low-flow head uses at least half a gallon of water less per minute. Installing a low-flow shower head is an easy, low-cost way to make your bathroom much more ecologically-friendly.
They'll even help you save money! For example: imagine a home where two people take ten minute showers each day. With an average 2.5 GPM (gallon per minute) head, that house uses 50 gallons of water to shower every day. That's 18,250 gallons a year. If they switched to a low-flow 2.0 GPM shower head, they'd use 40 gallons a day instead; 14,600 gallons a year. Just by switching one shower head, that household saved 3,650 gallons of water a year. That's a lot. Imagine what your water bill would look like if you used 3,650 gallons less per year!
Look for the EPA's WaterSense® label.
To qualify for the WaterSense label, a product has to hit a number of goals. First, it has to perform as well as or better than less-efficient counterparts. Second, it must be at least 20 percent more water efficient than comparable products. Third, It must achieve this efficiency by utilizing new technology options. Long story short: if you choose a WaterSense fixture, you're making a choice to be more eco-friendly. That's awesome.
Style
Use the internet, save images of fixtures that you like.
The first step to choosing a fixture that you stylistically enjoy is the most fun: just look around! Read some style blogs or websites like Houzz or HouseBeautiful. Create a style board by printing out images or using Pinterest to gather the things you like.
Once your favorites are all together, you might find that you gravitate towards specific types of styles. Knowing your taste will make it that much easier to settle on a choice.
Try to find real displays.
Once you know the general idea of what you like, we recommend going to the places where those types of fixtures are sold. Seeing fixtures in-person is the best way to figure out whether or not they'll work for your home.
Don't worry about what's trendy.
It's okay if you don't like freestanding bathtubs or rainfall showerheads. Make choices based on what you want. Don't let style blogs or other people influence your design choices (too much, at least). This is your home, after all!
Prioritize.
What's most important to you when it comes to bathroom fixtures? Is it the way they look? The way they function? Do you need a shower with a wall of massage jets? Do you need more than one sink because you don't want to have to share with your spouse? Is eco-friendliness your highest priority? Whatever you value, represent it when making your design choices, and you'll end up happy.
No matter what fixtures you choose for your bathroom, the team at Mike Diamond is happy to help you install them. Keep on the lookout for our next post about choosing fixtures for your kitchen next month!