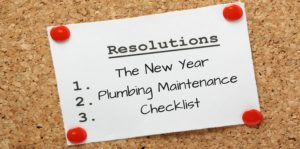 New years mean new beginnings. Like well-known author Markus Zusak said, "Never leave anything out to dry as the sun comes up for the new year". That includes your flooring, your pipes, and anything else that could be affected negatively if you've neglected your plumbing maintenance. There's nothing wrong with being proactive, which is why we've created this new year plumbing maintenance checklist.
Check off these regular maintenance tips as you go and feel great as you do it. You're going to kick this new year's butt.
Kitchen
Give your garbage disposal a once over.

Check for any leaks, clogs, or other potential issues. Never throw coffee grounds, oils, bacon grease, or fibrous materials down the disposal. Careful use of the disposal will help keep its blades working at peak performance for as long as possible.

Clean out your kitchen sink's drain

, breaking up regular build-up and keeping the flow of water going the way you want it to.

Check all faucets for leaks.

Your kitchen sink is likely the most regularly-used sink in your house. Leaks in your kitchen sink can could happen multiple places, from the faucet to the strainer to the pipes underneath.
Bathroom
Test your drains by pouring a large container of water into both the tub and bathroom sink.

Bathroom drains are notorious for collecting debris like hair and skin cells, which can build up if not cleaned out at regular intervals.

Take a look at the caulking around your sink and tub.

You want to make sure that these seals are doing their job of preventing water from seeping into your sub-floor.

Address any problems that are easy to ignore, including dripping faucets or running toilets.

These are things that don't seem like a big deal, but they can waste considerable amounts of water and cause slow, sure wear and tear.

Clean out the aerators in your faucets.

If this isn't something you're comfortable doing on your own, you can

call a professional

. Cleaning out your faucet aerators is important. If they aren't taken care of, calcium build-up inside your aerators can significantly affect your water pressure.

Check to see if the shower head or any of the faucets are leaking.

If they are, take care of the small leaks before they become big ones. It can save you thousands of dollars over the course of the year.
Outdoors
Clean away any leaves, snow, and debris from your exterior plumbing fixtures to see if anything has changed over the course of the holidays.

Address issues when you come across them.

Get your septic tank inspected and, if it's been awhile, pumped.

You'll be able to avoid problems that could occur during the new year with this important regular maintenance task.
Etc.
Get a water pressure test done

so you can make sure that the current water pressure in your home isn't doing unnecessary damage.

If you come across any issues, get in touch with the professionals

at

Mike Diamond

sooner rather than later, so small problems don't get the opportunity to become much larger ones.
Happy new year, and good luck with all your resolutions!