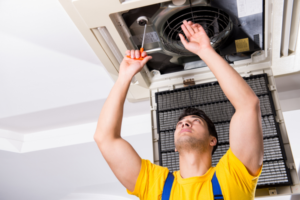 Spring is the season of change and growth. Flowers are blooming, the school year is ending, and cold is giving way to new life. With the changing weather comes an innate human desire to clean, refresh, and clear out our living spaces. This should include your home's heating and air conditioning systems.
Don't spend your time only dusting the eaves and re-organizing the garage. Take a moment to give your HVAC some much-needed love after the hard work it did all winter. We've listed some of the best ways to prep your home's heating, cooling, and air for the springtime.
Replace the air filters
An easy to follow rule of thumb when it comes to your HVAC's air filters is to change them as the seasons change. Exactly how often you should switch out your air filter depends on how heavily you use it, but as a general rule, you should never wait more than three or four months to replace yours.
Air filters maintain the air quality in your home. Making sure yours are up to snuff is especially important during spring, since the air outside is full of pollen, dander, and other allergens.
Give the whole unit a spring cleaning
Everybody knows about spring cleaning. The weather gets nicer, the sun shines brighter, and we all want to give things a sprucing up. Let this year's spring cleaning endeavors include your HVAC system. Dust vents and air returns, wipe down your thermostat, and give everything else a thorough freshening up.
Test out the thermostat
You should cycle your thermostat a few times per year to make sure it's working properly. Thermostat recalibration is fairly simple. All you have to do is turn it on and run the air conditioner for around 15 minutes. Then, use an indoor thermometer to compare the reading on the thermostat with the actual temp. If something isn't right, readjust the thermostat so it's giving proper readings. Give your thermostat a nice cleaning while you're at it to prevent built-up dust and gunk from becoming a problem.
Schedule a tune-up
This is your best option. Scheduling a tune-up for your HVAC system during the spring will guarantee it's working correctly when the hot summer months come around. A typical tune-up will include different things for different parts of your home HVAC.
During an HVAC inspection, professionals clean condenser coils, calibrate thermostats, check refrigerant levels, maintain blower belts and motors, and more. They'll check your vents, remove any blockages, and diagnose and fix problems. If they find any problems too big to correct during your initial inspection, they'll coordinate a follow-up repair right away.
Whether it's spring, summer, fall, or winter, Mike Diamond has you covered. Keeping your home's heating, cooling, and air systems working their best involves regular care and maintenance. If you think your HVAC system is ready for it's next tune-up, give our team of trained technicians a call today.