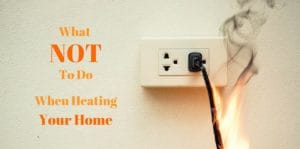 When it's chilly outside, there is nothing better than a warm and cozy home to call your own. Keeping your house warm is a delicate dance between the right temperature, the best cost, and keeping the warmth you generate where it should be – inside your walls.
Like with any dance, it's easy to trip up sometimes and make choices that aren't the best for your home heating system, your comfort, or your pocketbook. We've put together this list of five things you shouldn't do when heating your house so you can enjoy cooler temperatures instead of dreading them. No matter what the temperature is like outside, you should NEVER…
Turn the thermostat way down at night
While it may seem like you could save money by turning the thermostat way down at night, that isn't always the case. In fact, turning it down at night means that it will have to work even harder to get the heat back up the next day.
Not only does all that work put a lot of pressure on your heating system, the constant fluctuations lead to higher bills and rooms that never feel quite right.
Keep your curtains closed
When the sky is flat and grey, it's hard not to keep the curtain closed to shut out the gloom. The thing is, though… keeping your curtains closed can actually lead to your home being colder and less comfortable.
Natural sunlight goes a long way toward keeping homes warm. Don't forget to keep the curtains and blinds open as often as possible to let in some natural warmth. It'll even help you save money on heating!
Light things on fire
We just wanted to put this one out there. It will make your home warmer, that's true, but it will also put you in mortal danger and potentially destroy your home. Don't do it.
Leave space heaters on when you're not home
Sometimes you need a little extra warmth because, for one reason or another, your whole home heating system isn't everything you wish it was.
Space heaters are perfect solutions for these types of situations. Like with any heat-creating home electronic, however, there is risk involved. Don't invite trouble by leaving space heaters on when you're not around.
Heat your home when you're not there
During the holiday season, people all over the country tend to take take long vacations. One of our favorite short-term-investment, long-term-benefit suggestions for these people is to invest in a programmable thermostat. Programmable thermostats allow you to turn your heat down when you're not home. Leaving the heat off when you're not using it is a great way to save money without any inconvenience.
Don't let the cold get in this season – keep your home and your family cozy, safe, and warm during the holidays by paying attention to these suggestions.
If you ever find yourself needing repairs or updates to your existing home heating, know that the experts at Mike Diamond are on standby, happy and ready to help.