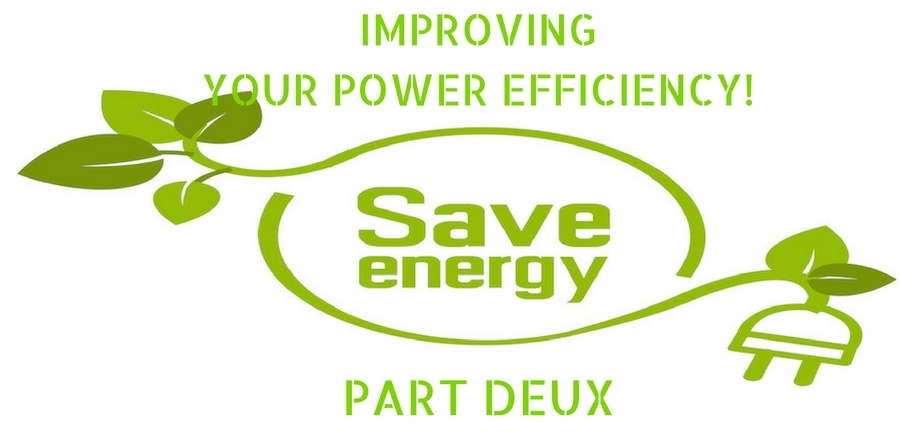 Last month, we started you down the path of power efficiency mastery. Like Mr. Miyagi teaching Daniel-san, we demonstrated how simple changes could help you significantly lower your monthly power bills. Now, you've returned. You're not satisfied with the basics. A true master's quest for enlightenment is never complete. Perhaps you've even implemented all our strategies and are ready for the next level. Perhaps you really want to show the power company who's boss.
Well, if you're ready to learn, we're ready to teach. The smell-good sensei has returned, and this time we're going beyond the basics. These suggestions are the tricky ones; either the ones you wouldn't think of, the ones you've been putting off, or the projects at the bottom of your list. Think of these as the "crane kick" of power efficiency, the techniques that will help you win the tournament and put that smug jerk Johnny in his place. (Johnny is your power company. Get it? It's Karate Kid.)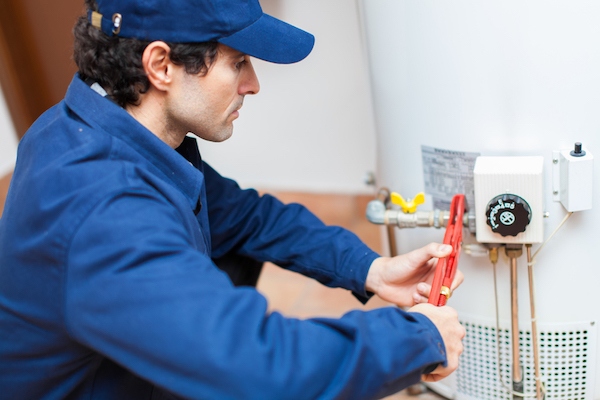 Invest in an Efficient Water Heater
Your water heater is your home's 2nd largest power expense, responsible for 14 to 18 percent of the utility bill we all fear and loathe. That winds up being between $400 to $600 per year. The more effective your water heater, the less power will be consumed in the process of heating water, and the more money you'll save. When you consider how much money goes into water heating, saving even a negligible percentage of that money could really add up.
We've written at-length about how to choose the right heater, and there are great resources online to help you too. For energy-saving purposes, choosing a water heater is simple. Look for the Energy Factor (EF). The EF measures the overall efficiency of the water heater. Factors that determine the EF include the heater's recovery efficiency and its susceptibility to standby and cycling losses. The higher the EF rating, the more efficient the water heater. You can usually find a heater's EF rating next to the Energy Guide label. Getting a highly efficient water heater could cut your power bill by hundreds–all on its own!

Replace Your Air Filter
Air filter replacement might be the overlooked maintenance project ever, which is a shame, because it's so important. You're supposed to change your furnace filter once a month, but let's be real: you probably don't. You've probably never heard of anyone who does. How could replacing something that often save you money?
When your air filter gets dirty, it forces the HVAC to work harder to move air through your vents. The harder the HVAC has to work, the more power it consumes. Replacement filters are a minor expense compared to repairing or replacing your whole air system, and they'll pay for themselves in the efficiency savings, too. Air filters are also an essential tool for keeping your home's air clean and sanitary. Basically, there are a lot of reasons why your air filter should be clean, so make sure you're replacing it often.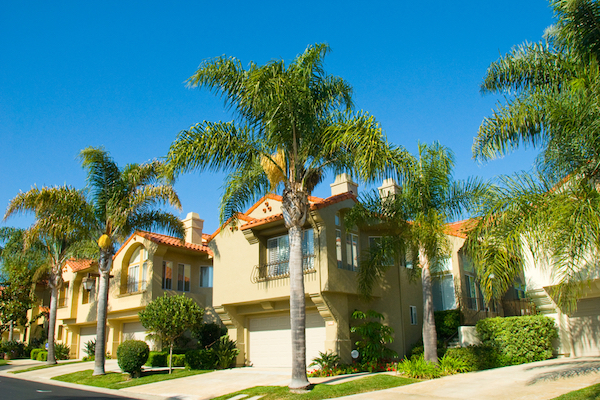 Landscape!
We told you we were getting weird this time. Yes, working on your yard can yield surprisingly potent benefits to your power efficiency. For all our reliance on new-fangled technology, sometimes the best way to keep out of the heat is to stand in the shade. If you landscape your yard so that trees, fences, shrubbery, pink flamingos, or whatever else you want to put out there is providing shade, that shade will help you keep your home cooler.
If you can block direct sun rays from coming into your house, your home will be several degrees cooler. You could also use fences or grasses to block winds and help even more. The most important thing to do is prevent the "greenhouse effect" that happens when direct sunlight passes through windows and starts cooking your house. Doing that will significantly help out HVAC system out and save power.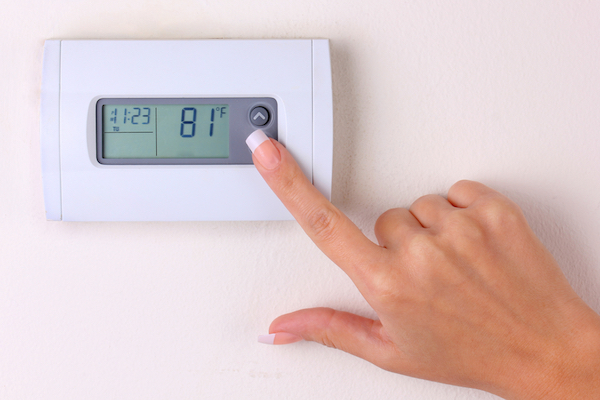 Upgrade your Thermostat
A programmable thermostat can save you about $180 in energy costs every year. You can set them to manage your HVAC while you're away. There's no point having the heater or air conditioner blasting while you're at work or sleeping. With a programmable thermostat, you can set up your AC to turn back on a half hour before you get home from work. The house feels the same as ever, but you don't have to pay to power your AC all day.
Programmable thermostats are also simply more effective at managing your temperature. They monitor temperature all day, and if it ever fluctuates off of the ideal degree you programmed it corrects the problem. When the temperature is right, it turns off the heating or air right away. Not only is this the most effective way to use an HVAC system, it means you don't have to worry about whether or not you should have your air on. Now you're conserving your *personal* power, too!

Replace Your Windows and Frames
Windows are the #1 place where homes lose power. Unless the frame is of a weather-stripped, high-quality material and the window is made of double pane glass, it's hard to prevent a lot of air from leaking out and being wasted.
Run your hand over the surface of your windows. See if you can feel a draft or a temperature change. Is there condensation on the glass in the morning or after it rains? Listen closely for a faint breeze; that could be the sound of air being sucked through a gap. If you find any of these signs, it may be time to consider replacing the window or frame.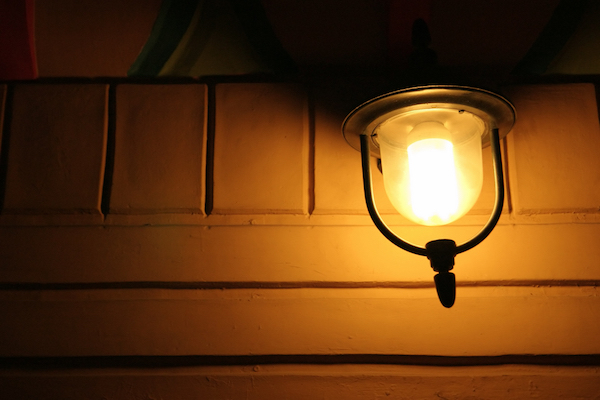 When looking for new windows and frames, there are a couple things to keep in mind. First, make sure the windows are double-pane glass. This reinforced glass is better at keeping air in than standard glass. Next, look for Energy Star-approved windows. Energy Star windows exceed the U.S. Department of Energy's standard for energy conservation. Finally, get frames that are made of high-quality material like wood or fiberglass, and ensure that they're properly caulked and weatherstripped.

Avoid Automatic Lights
We can't fault you if you have security concerns, but the fact of the matter is automatic lights just aren't energy efficient. If you have an outdoor flood light that's programmed to turn on in response to movement, chances are it triggers several times a night. Every time one of California's many assorted critters scampers through your yard, your flood light uses up some of your power.
Indoor automatic lights tend to be overly sensitive too, and in some cases their triggering mechanism can malfunction. We're not saying you have to walk around your home in the dark, but you'd be surprised how only having the lights on that you have to have on will improve your energy efficiency. Even little lights like nightlights or reading lamps can take up a lot of power, especially if they're on all the time or if they're switched on and off frequently.
There you have it! Twelve of the best power efficiency Kung Fu moves we can teach you. This is by no means everything a homeowner could do to save on power (like we said, a true master's journey never ends), but if you can incorporate these changes into your home, you'll save a pretty penny on power costs.
The last lesson we have for you today is this: being power efficient does not mean sacrificing the basic comforts of life. If your plumbing, heating, cooling, or electrical appliances breaks down, don't punish yourself by waiting to get it fixed. Call Mike Diamond anytime and we'll fix your problem fast and right, so you can get back to saving money and staying cool. You don't have to call us "Sensei" when we show up. Unless you want to!