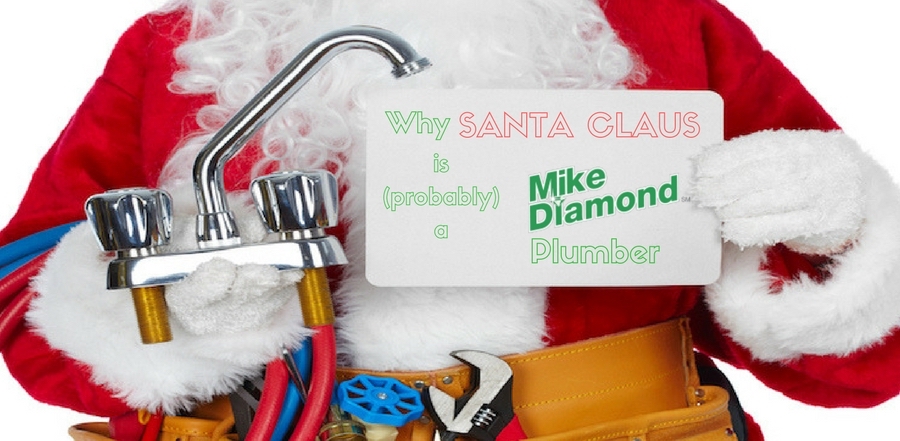 Everyone knows Santa lives in the North Pole when he's helping his elves build toys and preparing for another holiday excursion. But where does he go to take a load off and to celebrate another successful year? Now, hear us out. We're pretty sure Santa comes down to California and moonlights as a Mike Diamond plumber for a couple months every summer.
We know it sounds crazy, but just listen. There are just too many similarities between Santa and the Smell Good Plumbers to be mere coincidence. Besides, what would a guy like Santa love to do more than be a plumber in his off-time? He gets to tinker, he gets to help people, and he gets to scope out people's houses for chimney-based access. He even gets to do a little "naughty or nice" field testing. This dude delivers toys to all the good boys and girls every year, so he's definitely not the type of guy who ever stops working. Plus, California is about as far from the North Pole climate-wise as you can get, so it's a nice change of pace.
There's also the fact we employ a plumber named 'Nicholas Christopher Klaus' every summer for a couple months while he "passes through." He has a big beard and smells like gingerbread. The bumper sticker on his truck says, "my other car is a sleigh." The signs are there.
Still not convinced? Here's the rest of the evidence we've spent all year compiling from careful observation, leading questions, and a couple strategically placed trays of cookies and milk. Here's why Santa is maybe/probably/definitely a Mike Diamond Plumber.

Perfect Punctuality
Perhaps the most impressive of ol' St. Nick's skills is his legendary ability to get to every house where good children live in one night. To accomplish such a feat, Santa needs to be fast, sure, but he also needs to have a plan. One imagines he and his navigationally inclined elves spend many a cold North Pole's night huddled around a map, planning the most effective possible route. Santa needs to stick to his schedule to the moment. Even with the power of holiday magic, we kind of doubt there's a lot of room for error when you're visiting a billion homes all over the world. So, adding all this up, Santa is a master schedule-keeper who's never late.
Just like someone else we know! Did you know you can contact Mike Diamond for emergency plumbing repair anytime? That's right, day or night, when you have a problem you need fixed pronto, Mike Diamond is just a phone call away. We respond in minutes, tell you exactly when we'll be there, and always arrive right on time with everything we need. Hmm. Showing up in a dead winter's night in the nick of time, loaded up with everything we could possibly need? It sounds like a certain jolly man in red's MO, doesn't it?

Smells Great
Everyone knows Mike Diamond plumbers smell great; it's in the name. Despite working a job which, frankly, is associated with all manner of not-so-great smells, Mike Diamond plumbers always manage to smell fresh and clean.
Everyone also knows Santa smells good, no matter what. The man builds toys all day and flies from house to house all night in a thick red coat, often "ho ho ho"-ing at the top of his lungs, and at the end of the night, he smells like pine, peppermint, gingerbread, frankincense, and myrrh. How does he pull that off? How do Mike Diamond plumbers fix toilets and clean drains and replace all manner of pipes and still come out smelling like a rose?
There can't be that many people with the same inexplicable superpower to always smell good no matter what.

Encyclopedic Knowledge     
One of the sometimes underappreciated qualities of the big man is his incredible technical genius. Sure, he has the aid of his elves, but when it comes to tinkering with, engineering, fixing, or otherwise building a toy, Father Christmas is second to none. The only way you know how to build toys like that is by having a preternatural understanding of the inner workings of things. Santa looks at a toy and instantly knows how it was put together and how he could fix, maintain, or improve it.
If Santa could apply his technical acumen to the world of home repair (and of course he can, he's a legend), he'd feel right at home among the rest of the Smell Good Plumbers. Mike Diamond hires only the highest-quality experts in the world of plumbing. All our employees are licensed, certified, and insured. Whether it's toilets, pipes, sinks, drains, water heaters, air conditioners, electrical work, or heaters, Mike Diamond plumbers know their way around it the way St. Nick knows toys. When Santa gets a little tired of creating toys to make good children's dreams come true, who's to say he doesn't make your plumbing dreams come true?

Loves The Customer
The most important part of the Santa Claus legend is why he does what he does. Santa spends every year of his magical life up in the North Pole making toys because he loves all the people of the world. He lives for the smiles and joy he brings to good little boys and girls everywhere. His jolliness and holiday spirit comes from the love he bears all of us.
Now, we know we don't have the kind of relationship with you that good Kris Kringle does. It's alright; it might be kind of weird if we did. We're not immortal personifications of the kind, charitable spirit of all mankind. We're just plumbers. Nevertheless, we try in our own, however small, mortal way, to prove our love for our customers everyday. Along with smelling good, it's kind of what we're known for. The way we see it, home repair is something everyone needs. It's helping people solve their problems with dignity and respect.
Plumbing may not be the most glamorous of jobs, but we believe in the nobility of our profession. We think Santa probably does too. Santa and the humble plumber are kindred spirits, in a way. That's probably why he CLEARLY works here in the off-months. Seriously, Nick, we see you feeding the reindeer out back on your lunch breaks. Who else brings nine carrots to work every single day?
With all of our evidence, we think we've built a pretty compelling case for why Santa has just got to be a Mike Diamond plumber. The pieces all fit! It's all right there! Anyway, if you need plumbing or home repair service anytime, give Mike Diamond a call or schedule an appointment today. We can't promise Santa will show up (he's an awfully busy guy), but we can guarantee that whoever shows up will get there on time, smell great, be jolly, solve your problems, and rekindle your faith in people and holiday magic. Well, that last one is a stretch. 4 of 5 ain't bad.