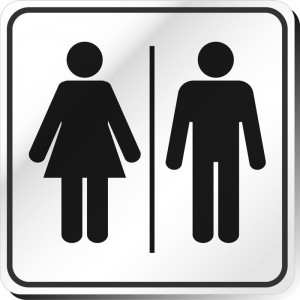 Toilet. Latrine. The throne. Commode.
Call it what you want; there's no denying it's an integral part of our lives. It's something you use multiple times a day, but how much do you really know about it? Toilet leaks are a common problem in homes because they can be left undetected to the untrained eye, or ear. Did you know that ten percent of homes have leaks that can waste up to 90 gallons or more per day? Don't let that happen to you.
Unsure if your toilet is up to par? Check out 5 quick and easy toilet tests to make sure it's up to the highest standards.
Use Food Coloring
Food coloring isn't just for baking anymore. Did you know you can test for leaks by taking the lid off the tank and putting a couple drops of food coloring in the tank? Let it sit — don't flush. If the water becomes colored in the bowl after sitting for 15 minutes, it means you have a leak. Be sure to flush immediately after this experiment to avoid staining the tank. If you discover you have a leak, the toilet tank can be repaired by changing out the rubber gaskets around the tank bolts and the spud washer.
Listen for Hissing Sounds
If you hear a continuous sound of water when nothing is turned on, there could be a leak. This is caused by air or water leaking from the fill valve. When the valve doesn't close properly, it can cause a leak. This practice can also be applied to other plumbing fixtures throughout your home.
Check Tank Parts 
Open the tank to check for broken or rusty parts. Parts that are not functioning properly need to be replaced. One tank part that often leads to leaking is a faulty toilet flapper. Over time, this inexpensive rubber part decays, or minerals build up on it. Replacing the rubber flapper is a relatively easy, inexpensive do-it-yourself project that pays for itself in no time.
Look for Mold and Mildew
If mold or mildew is found near plumbing, it is a sign that water is seeping through where it shouldn't be. This is true all throughout your bathroom. Mold and mildew can also be found inside your toilet bowl. If it's inside the toilet bowl, the best prevention is regular cleaning to stay ahead of any reappearance. Routine maintenance is the key. Also, remember to flush any guest or infrequently used toilet on a regular basis to avoid setting a stain.
Check Stability
Your toilet isn't supposed to be a rocking chair. Check to see if your toilet is wobbly or coming loose from the floor. This may be a sign of a leak and it needs to be sealed again to the floor to prevent future issues. Check the bolts holding the bowl to the floor. If they're loose, you can try hand-tightening them or giving them a quarter-turn with a wrench if needed. If loose bolts aren't the problem, try steadying the toilet by slipping some plastic plumbers' shims into the gap where the bowl meets the floor.
Now that you learned more about the latrine, check out the commodes in your own home. If you encounter a problem that needs expert repair, call the Smell Good Plumbers at Mike Diamond Services. We can help you with leak detection, leaky pipe repair, toilet repair and installation, and more. Give us a call today and we'll use our experience and expertise to help you truly become the king or queen of the throne at your house.