Earning your plumber's license and becoming a fulltime journeyman plumber is a profitable and rewarding career path. While it takes four years to earn your license, the good news is that you can be earning money the entire time as a plumber's apprentice. Once licensed, the average pay for a plumber in California is $72,000/year, the highest of any state in the U.S.
If you're a high school graduate looking for a career you can start now but that will grow with you, plumbing could be the answer. At Mike Diamond, we invest in young plumbers and train them to be California's best and best smelling. Consider an apprenticeship with Mike Diamond to jump start your career.
The Need for Trade Workers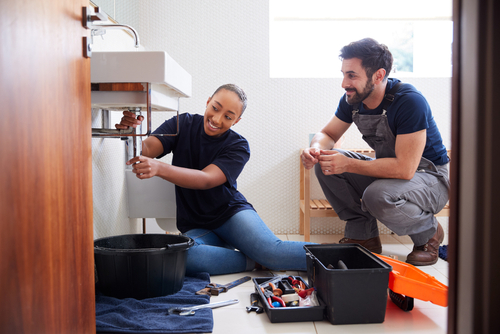 TV personality and staunch blue collar advocate, Mike Rowe often talks about the value of mastering a trade. He's even created a nonprofit to help young people interested in trades find the right schooling and training.
"We have 7.3 million open jobs right now, most of which don't require a four-year degree," Rowe said. "They require training, they require skill and they require a willingness to master a trade that's in demand."
It's estimated that between 2021-2031 there will be 48,600 plumbing jobs available annually. Some will be new positions but many of them are to fill vacancies left by workers leaving the field due to retirement or other reasons.
Clearly there is a demand for skilled tradespeople that isn't going away. As the world becomes more digitized, repair technicians, mechanics and home services professionals will be in high demand to keep the world running.
5 Benefits of A Plumbing Career
Becoming a licensed plumber in California gives you a distinct set of skills and opens the door to many opportunities. Let's look at the benefits of being a plumber and why they're not likely to change anytime soon.
1. You learn a lifelong skill
Being able to repair pipes, install water heaters or clear drains makes you a valuable worker with an upward growth trend. You develop a valuable skill that has wide applications in your personal and professional life.
2. Competitive Pay
Plumbers earn as much as or more than similar tradespeople such as electricians or welders. The U.S. Bureau of Labor Statistics puts the median plumber salary in 2021 at $59,880 but that number is much higher in California. As you improve your skills and grow your experience, you'll also increase your earning potential.
3. Work/Life Balance
Trades have come a long way. These days you don't have to be on call 24/7 or work yourself to death to earn a decent living. Most employers offer competitive benefits, paid vacation and retirement plans to help you forge your career.
4. Job Security
There are many reasons plumbers remain in demand. With a plumbing license you're likely to always find employment. Even during downturns and recessions people need their plumbing to work.
5. Sustainable path
Becoming a plumber doesn't require a four year college education and mountains of student debt. With a high school degree, you can begin training and earn money as you go. You can work yourself up from apprentice to journeyman to master plumber and earn a good living while doing it.
How Do I Get a Plumber's License in California?
Getting your plumbing license in CA will take several years but you can work and learn as you go. Here are the steps to follow:
Requirements
To begin on the path to a plumbing career you need to:
Be 18 years old
Have a high school diploma or GED
Pass a background check
Plumbing requires analytical skills that include geometry and algebra. You'll be calculating pipe configurations and flow rates. A good educational foundation helps going in.
Start an Apprenticeship Program
Before you become a plumber, you'll need 2-4 years in a California plumbing apprenticeship program. You can either apply directly into an apprenticeship or go into one after attending a trade school. While working under the supervision of a licensed plumber, you'll get hands-on training and earn regular wages and benefits.
Become a Journeyman Plumber
Once you've completed your necessary hours as a plumber's apprentice, you can apply to take the C-36 plumbing contractor exam. This 6 hour test has two sections: one that covers plumbing work and one that covers the laws and regulations around operating a plumbing business. It will cost you $500 to take the exam and you will get your results in 1-3 months. If you pass the exam, you will be a fully licensed journeyman plumber and able to perform plumbing jobs that exceed $500 in parts and labor on your own.
Become a Master Plumber
Master plumber is the highest level you can achieve in the plumbing trade. To become a master plumber, you'll need to work 1-5 years as a journeyman plumber and take a more comprehensive exam that tests your knowledge of specialized plumbing systems.
Start Your Plumber's Apprenticeship Today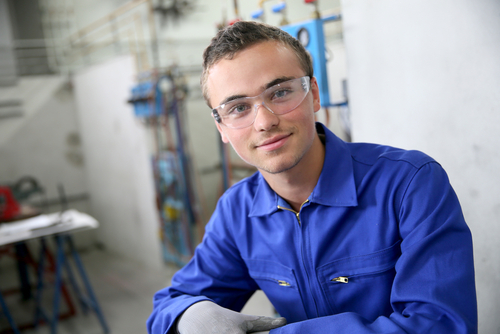 Mike Diamond offers a paid apprenticeship program for young plumbers in the Los Angeles area looking to start their careers. Call 1-888-680-3341 or fill out our application today. You can also attend one of our in-person hiring events to learn more. We'd love to meet you and help you start a rewarding and profitable plumbing career.