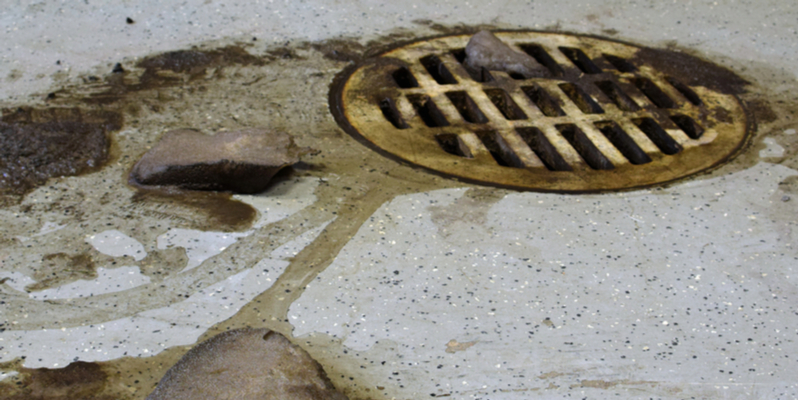 The garage floor drain is one of the most underappreciated pieces of plumbing hardware out there. No matter what, they work hard. Your garage floor drain handles all the random liquid that finds its way from outside into your garage. This can include appliance run-off, animal hair, engine oil, spillage, fixture condensation, and who knows what else.
Just like any other drain in your home, your garage floor drain can clog. When that happens, you'll want to clear that clog right away. Standing water in your garage isn't just a safety risk; it's a draw for pest infestations, mold and health risks. If you find your garage drain clogged, here's what you can do about it.
What kind of garage floor drain do I have?
Garage floor drains aren't one-size-fits-all. There are two main varieties: round floor drains and trench floor drains.
Round floor drains are typically a metal grate set into concrete that measures up to a foot across. They're the most common because they're affordable and easy to install. If you have one, it's likely located in the center of your garage.
Trench floor drains, also referred to as channel drains, are slightly less common. They're long and rectangular, with the "trenches" set into the ground and covered by a grate. Depending on their style, you can find them running down the center or near the door to your garage. These drains cost more to install, but their design makes them less likely to clog.
How do I unclog the floor drain in my garage?
Your garage or shop floor drain isn't that different from any other drain in your home when it comes to cleaning it out. You just might have different gunk clogging it up. Here are five steps for how to unclog a garage floor drain:
Remove the grate. Depending on the type of grate, you may have to unscrew it from the floor before you manually remove it.
Remove any physical debris. Because your garage floor drain is located adjacent to the outdoors, it's likely to have more gunk than other drains. This can include leaves, dirt, animal hair, and more. Use a tool like a shovel or trowel to get as much blockage out as possible. We recommend wearing rubber gloves during this part of the process to avoid touching anything gross.
Pour a pot of hot but not-quite-boiling water down the drain. This water will help dissolve any additional gunk attached to the walls of the drain. If the clog is especially bad, you could repeat the process two or three times. Please note that you should never use chemical drain cleaners at home. This includes outdoor drains. These types of cleaners will eat away at your pipes and drains if you use them too regularly.
Pour 1 cup of baking soda and 1 cup of vinegar down the drain. If the hot water didn't get things moving, the reaction caused here will help loosen anything gummed up inside your pipe walls. Wait 10 minutes and then pour another pot of hot water down to rinse it out.
Use a plumber's snake. If your floor drain still isn't budging, it's time for the heavier tools. Work your plumber's snake down the drain, turning the handle whenever you meet resistance and continue to push through. For more tips, see our blog on how to use a plumber's snake.
We Service Garage Floor Drains
Whether it's installing a garage floor drain, addressing standing water in your garage or unclogging an existing drain that just won't move, Mike Diamond is the plumber to call. For the 1% of drain clogs too intense for this guide, call the professionals. The team at Mike Diamond is expertly trained and always standing by.