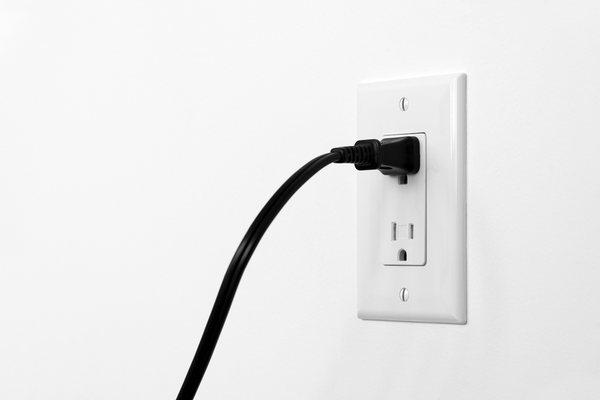 Outlet mechanisms are hidden by design, so it can be surprisingly difficult to tell if there's something wrong with them. There are also all kinds of things that can go wrong with your outlets, and each problem could have several different effects. Sometimes, an outlet could seem to work perfectly well… until it starts on fire.
If you think there's something wrong with your electrical outlets, you shouldn't wait to do something about it. Broken or faulty outlets could be harbingers of more serious electrical problems… or they could produce serious and even dangerous problems in their own right. Here's how you can tell if there's something wrong with your electrical outlet for sure, and what to do next:
What are the signs that something is wrong with one of my outlets?
If you notice any of the following signs, then there's probably something wrong with one or more of your home's outlets:
Scorch marks. If there is any discoloration or melting near or around an outlet, then it's probably not controlling current correctly. This is a significant sign that something's not working right.
Cracked faceplates. A crack in an outlet faceplate could make its internal mechanism vulnerable to dust, which could cause all kinds of problems.
Plugs don't stay in. This is a common sign of internal wear and tear. Loose outlets wear down over time. While stray plugs usually don't present immediate dangers, they are a sign of potential future issues.
The smell of smoke. This is never good. Something is wrong. Do not pass go. Do not collect 200 dollars. Call an electrician immediately.
How can I determine whether or not an outlet is working?
An easy way to start checking your outlet is by plugging several electrical fixtures into it. If one fixture doesn't receive power from the outlet, then the fixture may be malfunctioning. If four or five fixtures won't work, then it's probably the outlet's fault. If you want to be sure whether your outlet is receiving electricity, however, then you should use a multimeter.
A multimeter is a simple device that is used to measure voltage and current. They have four parts: the display, knob, ports, and probes (red and black). By plugging one end of a probe into a port and holding the other near your outlet, you can tell if the outlet is giving off a current. If your multimeter can't find a current, then something's wrong with the outlet.
What should I do if I have a non-functional outlet?
Unfortunately, it's probably not enough to simply replace the faulty outlet. You'll have to figure out and fix what broke the outlet in the first place, as well. The best way to figure that out is by hiring an experienced electrician. While many home and DIY projects are safe for beginners, electrical work isn't safe for even intermediate DIYers. When it comes to dealing with electrical current, we always recommend deferring to the pros.
Addressing electrical problems in your home can be intimidating. If you find yourself wary of DIY electrical work, you're in the right state of mind. If you have a non-functional outlet or any other home electrical issue, it's best to connect with professionals for help. The team at Mike Diamond is well-trained, experience-backed, and ready to answer your call.