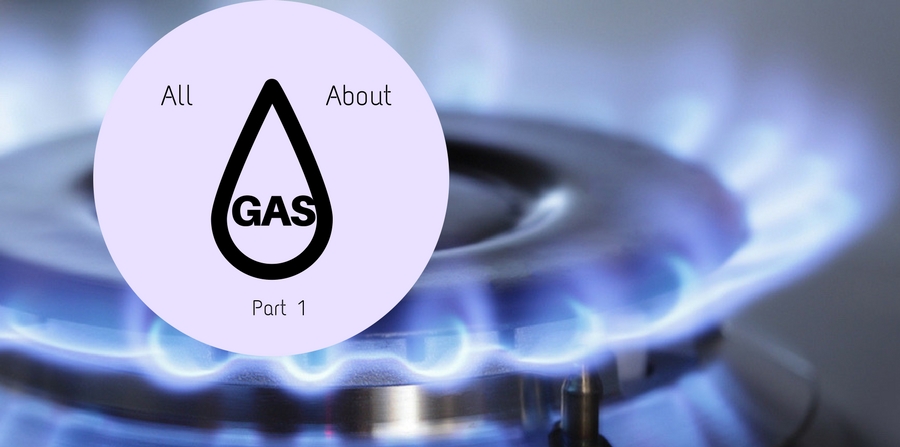 Whether we like it or not, natural gas continues to be vitally important to our day-to-day lives. As a versatile, clean-burning, and efficient source of power and energy, gas sees more use than any other power source in the US. 33.8% of US energy came from natural gas in 2016; we used approximately 27.5 trillion cubic feet of it in 2015. About half our homes use natural gas everyday, and 70 percent of all new homes are built with natural gas heating systems.
So: what does that mean for us? It means gas is important, and it should be understood. Not only is gas a quickly disappearing resource, it's also dangerous if mismanaged or improperly used. Learning about where your natural gas will promote safer, more responsible gas use. Stay safe and help preserve resources at the same time through the power of learning! Yeah, we're nerds. But guess who never accidentally ignites a gas leak and burns their house down?


Where does natural gas come from?
You may have heard something about how cars "run on dinosaurs," and that's actually (kind of) true! Over millions of years, sand, silt, and rock (basically, sediment) settles and builds up over the Earth's surface. When organic mass, such as plants and animals, died, sediment eventually buried it. As sediment continues to build, it exerts a great deal of pressure and heat on decayed remains. Eventually, pressure and heat transforms old organic material into coal, oil, or gas.  


How do we get natural gas?
First, experts find the types of sedimentary rock that's likely to contain natural gas using seismic surveys. These surveys use echolocation produced by vibrating pads to locate the promising conditions for natural gas formation. When a team finds a likely site, they use a special machine to drill into the rock. If initial drilling confirms the presence of natural gas, the team drills additional production wells into the rock.
When wells are operational, they suck so-called "wet" gas up from the area where it resides in the rock up to the wells on the surface. Wet natural gas contains various non-useful materials, so either the on-site team or experts in processing plants must treat it before it's ready to use. They extract methane and other useful gases from the wet gas, making it "dry" or "consumer-grade" natural gas. After the experts convert "wet" to "dry," the finished product is ready for consumers to use.


How is natural gas distributed?
After the gas is extracted from the wells, it's sent to a central collection point. It moves through a "gathering" system made up of several long gas lines attached to field compressors. Field compressors contain an internal combustion engine that pressurizes the gas in the line, pushing it forward. If a processor still needs to work on the gas in the line, it can reach a processing plant via the gathering system. After moving through the gathering system to the central collection point, natural gas is transferred into the transmission lines.
Transmission lines are a huge network of interconnected gas lines spanning 272,000 over the entire country. Transmission lines move natural gas over thousands of miles to local distribution companies (LDCs). Compressor stations placed every 50 or 60 miles along the transmission lines re-pressurize the gas and keep it moving towards its destination. Once it arrives at an LDC, gas passes through a gate station. These stations reduce excess pressure, measure flow rate, and actually add the gross "gas smell," so consumers know if they have a gas leak.


How does natural gas actually get to my home?
After they ensure its safety in the gate station, LDCs send the natural gas through distribution lines, or "mains". Mains are operated and managed by a gas utilities' central control center. The control center is responsible for monitoring pressure and flow rate. It ensures that the natural gas reaching the consumer is usable and safe. The gas utility company uses a series of regulators and computer programs to perform these operations. The regulators evaluate the capacity of the main network and make sure consumers receive enough pressurized gas.  
Gas mains zig-zag under all residential areas. Homes connect directly to their nearest gas mainline via a service line. A home's service line is usually a small, plastic tube running from a valve on the mainline underground up to the home's gas meter. From the meter, the natural gas splits off into multiple gas pipes which lead directly to the various gas-powered appliances in your home.
It's pretty humbling to think about just how much gas moves through this process all over the country and the world, every single day. Whenever you use a gas-based appliance, you're the endpoint of a long and (literally) intense journey. So: what do we use all that gas for? What risks should a homeowner like you be aware of when using natural gas? What can we do to conserve natural gas for the future? Check back next month for the answers to all these questions and more, same gas time, same gas place!
In the meantime, though, if you think you're having a gas problem–or any other home repair problem–don't hesitate to give your Smell-Good Plumber a call. We promise we aren't (quite) as nerdy in person.