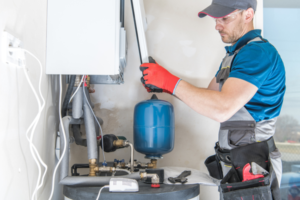 When it's cold outside (even in LA), there are few things as beneficial to a home as a furnace. It's the cornerstone of any cozy, temperate space. That said, a furnace can only do its job properly if it's the right size for the space it's heating. If it's too big or too small, it won't be effective enough to keep you toasty.
A furnace that's too small will lead to high energy bills, uneven heating, and a shorter lifespan. Not to mention the fact that it'll probably won't be able to keep you warm enough!. A furnace that's too big, on the other hand, might make parts of your home uncomfortably hot. It'll also cycle on and off too frequently, which could wear it out too quickly. If you want to avoid these problems, you have to make sure the furnace in your home is the right size. Here's how you can do that:
How do I determine the right size furnace for my home?
Gas furnaces are differentiated by their BTU capabilities. BTU stands for British Thermal Units. One BTU represents the amount of energy required to heat one pound of water by one degree Fahrenheit. To determine the proper BTU you'll need for your home heating, you'll have to do a little math.
First, find out the square footage of your home.
You should be able to find this number on the paperwork you received when you purchased your home. If you can't find that, try asking your realtor. Otherwise, you can calculate the square footage yourself. Start by measuring the length and width of each room in your home. Multiply the length and width of each room together to get the square footage of that room. Then simply measure the square footage of each room in your home and add them all together. Don't include rooms that don't have ductwork or rooms you don't plan on heating, like garages or sunrooms. Most furnace size charts operate under the assumption that your ceilings are eight feet high. If your ceilings are higher or lower, make changes to your calculation accordingly.
Determine which climate zone you live in.
If you're working with Mike Diamond, then your home lies in a hot-dry or mixed-dry climate zone. This can affect the strength of furnace you choose. People that live in colder climates tend to need more powerful hardware. Living in California, your furnace won't have to be quite as heavy duty.
Reference a furnace size chart.
There are a number of different furnace size charts out there. These charts give comparisons between home square footage and the BTUs needed to heat it. Most follow guidelines similar to these:
A 1,200-square-foot home will require between 35,000 and 75,000 BTUs
A 1,500-square-foot home will require between 45,000 to 90,000 BTUs
A 1,800-square-foot home will require between 55,000 to 110,000 BTUs
A 2,100-square-foot home will require between 65,000 to 125,000 BTUs
A 2,400-square-foot home will require between 75,000 to 145,000 BTUs
If you're interested in updating or upgrading your home's furnace, give Mike Diamond a call. Our expert technicians can answer your questions about the make, model, and size. We'll be able to get your just right furnace installed quickly and efficiently. That way you won't have to spend another day not feeling completely comfortable in your home.