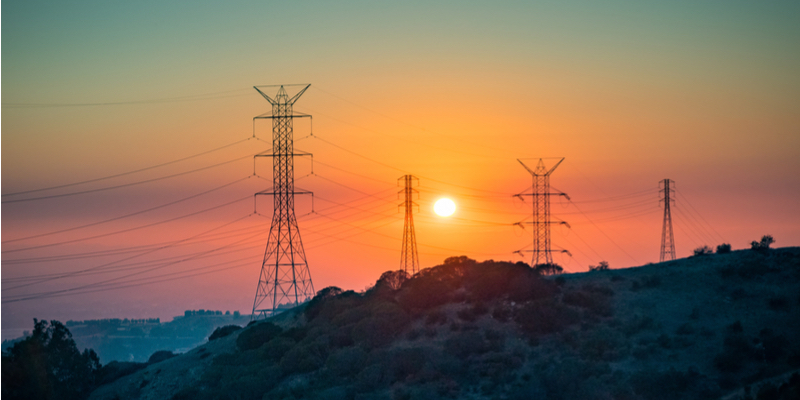 Have you ever wondered where your home's electricity comes from? It's a bigger question than you might realize! Every one of LA's electricity-using structures connects to our gigantic, state-spanning, literally billion dollar power system. Your humble home is one end of a story spanning hundreds of miles and involving thousands of people. Here are the Whos, Whats, Wheres of that story. You'll never flip a switch the same way again!
Who Makes It Happen
The Los Angeles Department of Water and Power (LADWP) supplies all of the power LA uses every day. The LADWP is the nation's largest municipal utility. 9400 employees help manage an electrical system capable of generating over 7,880 megawatts of power. These employees are responsible for inspecting, maintaining, repairing, and operating the entire system. The LADWP supplies power to 1.5 million customers in LA and over 5,000 customers in Owens Valley. Overall, the LADWP power system supplies an average of over 26 million megawatt-hours of electricity to LA every year.
The LADWP was established in 1902 to deliver water to LA. In 1916, it also began distributing electricity. It costs roughly $4.1 billion to supply LA with power every year. Water and electrical service charges fiance all these operating costs with no additional tax support. The LADWP is managed by five-member Board of Water and Power Commissioners. These board members are selected by the mayor of LA and confirmed by City Council. If you live "on the grid" in Los Angeles, you have the LADWP to thank for your electricity.
What Generates All That The Power?
According to the California Energy Commission's 2017 report, Califonia generates its electricity from the following places:
4.13% coal
14.72% large hydro
33.67% natural gas
9.08% nuclear
0.01% oil
0.14% Petroleum/waste heat
2.35% biomass
4.35% geothermal
2.7% small hydro
10.2% solar
9.25% wind
California is a national leader in implementing renewable energy production. As of October 7 2015, California signed Senate Bill 350, the Clean Energy and Pollution Reduction Act, into law. Senate Bill 350 aims to reduce California's greenhouse gas emissions to 40% below what they were in 1990 by 2030.
To meet this goal, every part of California–including LA–is quickly scaling up how much renewable energy it uses. The state hopes to get 33% of its electric power from renewable sources by 2020, and 50% by 2030. To help accomplish this goal, the LADWP is in the process of implementing the Power Strategic Long-Term Resource Plan (SLTRP). The SLTRP is a 20-year plan for aligning LA with Senate Bill 350 and LA's 100% clean energy initiative. As part of this plan, LA will eliminate coal as a power source, decrease natural gas use, incorporate more renewable energy sources, and more. A detailed breakdown of the 2017 SLTRP is available online.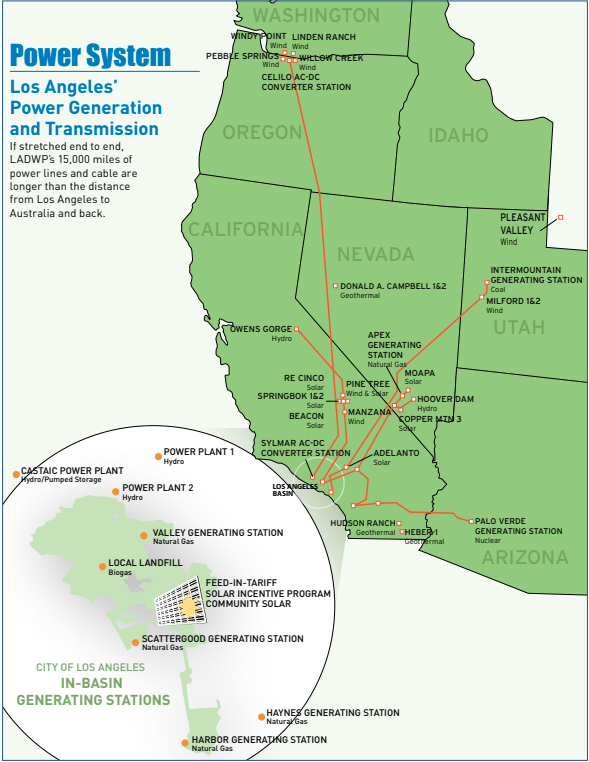 Where Does That Power Come From?
The LADWP gets the power it supplies to LA from many sources, both inside and outside of California. In total, the majority of LA's power comes from the following sources:
Sources inside the Los Angeles Valley:
3 hydro plants
4 natural gas power generating stations
1 landfill biogas converting station
The feed-in-tariff solar incentive program community solar
Sources outside the Los Angeles Valley, in California:
1 large hydroelectric dam
5 solar plants
2 wind plants
2 geothermal plants
Sources outside California:
1 geothermal plant (Nevada)
1 natural gas power generating stations (Nevada)
2 solar plants (Nevada)
The Hoover dam (Nevada)
1 Nuclear power generating station (Arizona)
6 Wind plants (Utah, Washington, Oregon, Wyoming)
The LADWP itself is responsible for operating:
4 thermal plants located in the Los Angeles basin
1 thermal plant located outside the Los Angeles basin
14 small hydroelectric plants
1 large hydroelectric plant
1 wind plant
2 solar photovoltaic plants
All of these power sources are connected to LA via a massive transmission and distribution infrastructure. Moving and distributing LA's power requires:
3,507 miles of overhead transmission circuits (across five states)
124 miles of underground transmission circuits
15,452 transmission towers
6,752 miles of overhead distribution lines
3,626 miles of underground distribution lines
21 receiving stations
128,693 distribution transformers
and more
Overall, 15,000 miles of power lines and cables are required to transport and distribute LA's power!
‌
Now you know who supplies your electricity and where that electricity comes from. But all that is only half the story! All of this generation and distribution happens long before your electricity reaches you–and often far away from you! Next week, we'll cover how your electricity reaches your home and how you use it once it reaches you.
All of this information on LA power is fascinating… but we're guessing it's not much help if you're having an electrical problem right now. If you're dealing with a frustrating or dangerous electrical problem, give Mike Diamond a call right away. Our experts can make sure everything's working safely and effectively.
‌
[Sources: The
Los Angeles Department of Water and Power
, the
California Energy Commission
] ‌