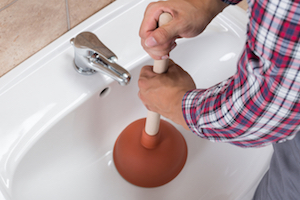 Knowing how to fix a clogged bathroom sink may depend on what's clogging it. You can flush soap scum clogs with vinegar and baking soda or tweeze hair. For bigger clogs in your bathroom sink, a plunger or drain snake works best. Figuring out why your bathroom sink is not draining is the first step towards unclogging it.
Below are six methods that address a clogged bathroom sink drain. Most of these apply to kitchen sinks and showers drains too. Roll up your sleeves and get started. If your bathroom sink fills up with water and won't budge, your Los Angeles plumbing experts are always on hand to help.
Why is my bathroom sink clogged?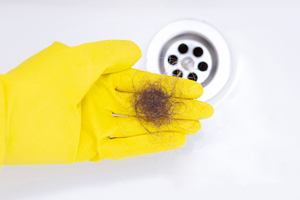 There are four common reasons for most bathroom sink clogs. Figuring out which one of these problems you have will give you a good starting point. Look for:
Clumps of hair
When hair enters your sink drain it clumps together and gets stuck on the walls and tangled in the drain's components.
Use long tweezers or a zip-it tool to remove hair. If neither works, try disassembling the whole drain. (see "clean the p trap" below)
Once you learn how to unclog a bathroom sink clogged with hair, install a preventative screen over your sink and shower drains to minimize the problem going forward.
Soap scum
Soap scum is especially prevalent if you have hard water. It can build up in your pipes over time and foster mold and mildew. If your bathroom sink is clogged with a black sludge, try the method below.
Pour a pot of boiling water down the drain or use baking soda and vinegar to dislodge built up soap scum. If it still doesn't budge, plunge with warm water.
Something stuck in p-trap
The p-trap is the curved pipe beneath your bathroom sink that connects your sink drain to the wall pipe. It prevents harmful sewer gasses from coming up through the drain.
Disconnect your bathroom sink p-trap and clean out the hair, sludge and any large items that may have gotten stuck within (see details below). You may want to wear rubber gloves.
Damaged pipes
Rust, corrosion, and other common pipe damage can lead to a slow drain or a clog over time.
Replace old, rusted pipes before they become bottled necked with debris. Plunge or snake them for temporary relief. Have a professional plumber assess the condition of your pipes.
Unclogging your sink
Once you've diagnosed why you have a bathroom sink clog, try the method we recommended for your problem above. If you can't figure out what your drain's problem is or if your sink still isn't draining, then try each of these methods in the order listed.
Note: Never use chemical drain cleaners. They can damage your pipes.
1. Baking soda and white vinegar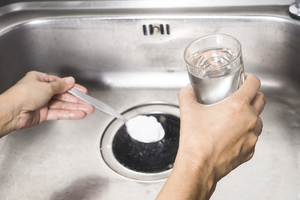 Unscrew the drain cover and remove the sink stopper.
Measure out a ½ cup of baking soda and 1 cup of white vinegar.
Sprinkle the ½ cup of baking soda into the drain.
Pour the cup of vinegar down the drain.
Let the mixture sit in the drain for several minutes, until fizzing stops.
Rinse hot water into the drain.
Repeat the process up to three times.
2. Fix a hair clogged drain
Remove the stopper.
Use a flashlight to look down the drain.
If you can see hair, use long-nosed tweezers to retrieve it directly.
If you can't see hair, use a zip-it tool or bend and insert a wire hanger to retrieve it.
Slide the tool up and down the drain as far as it will go naturally. Don't attempt to force it.
Push the tool in at different angles. Try to move it around the drain to catch more hair.
Repeat the process several times, rinsing with hot water as necessary.
3. Bathroom plunger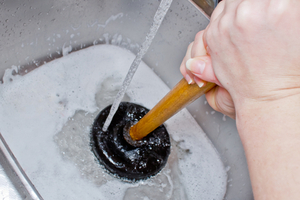 Use a cup plunger.
Remove the stopper.
Seal the sink overflow outlet with tape or a rag.
Place towels or rags on the floor around the sink.
Fill the sink with warm water.
Use the plunger's cup to create an airtight seal over the drain.
Pump the plunger's seal up and down several times with quick, sharp movements.
Test the drain to see if you've cleared the clog.
Repeat several times as necessary.
4. Clean the p-trap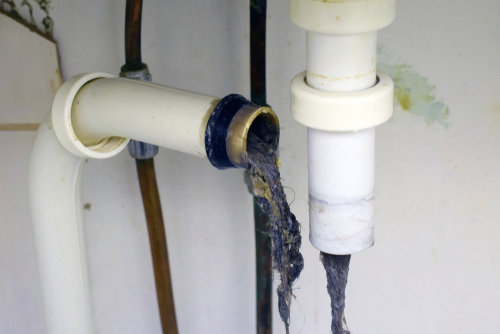 Put a bucket under your p-trap and wear rubber gloves.
Loosen the slip nuts by hand or with pliers as necessary.
Wiggle the p-trap free and dump the water into the bucket.
Remove objects and sludge lodged in the trap.
Clean the p-trap with a bristle brush.
Tighten the p-trap back in place and test the drain.
5. Snake – for bathroom sink clogged past trap
Use an automated drain snake (called plumber's snakes or plumber's augers) if possible.
Place towels or rags beneath the sink.
Remove the p-trap.
Thread the snake into the wall pipe manually.
Uncoil the snake using the handle to navigate bends.
When you reach the clog, rotate the head up-and-down and back-and-forth.
Pull the snake out and reassemble the sink components.
Test the drain.
6. Dissemble the drain
Follow these directions to remove your sink drain. Replace old or corroded drains with a new one. A new drain can help your sink smell fresh again.
Bathroom sink plumbing for Los Angeles' worst clogs
We hope you've learned how to clear a bathroom sink drain. If you've tried everything and are still up to your elbows in water, contact the pros at Mike Diamond. Some sink clogs are stubborn or so far down your line that they require extra finesse and professional tools. We know how to dislodge these tough clogs and get your drain flowing again.