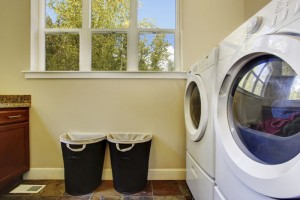 You purchased a home and the first room you start thinking about is the laundry room, right? Probably not. While you're busy dreaming of that new a flat screen TV in the living room or all the extra space in your new backyard, don't forget about the laundry room.
Did you know the average adult spends five months of his or her life doing laundry, according to this study? All the time spent emptying pockets, sorting colors, folding clothes, and all the other steps that come with doing laundry really add up.
Laundry is a chore that will always be on your to do list. Set yourself up for success—here's our checklist for what to look for in laundry room plumbing in your new home.
1. Washing Machine Hose
Inspect washing machine hoses for signs of wear and tear. Most washing machines come with a rubber hose and over time they will weaken from the constant water pressure. If a supply hose bursts it can empty hundred of gallons of water into your home. Consider replacing the rubber hose with stainless steel braided hose; they last longer and are resistant to leaks and cracks. Additionally, if you're considering rearranging your laundry room, a longer hose will allow you to better arrange your appliances.
2. Utility Sink
Make sure you laundry room is equipped with a utility sink. This allows for a great space to hand wash delicate items that wouldn't fair well in the washing machine. It also can be used for other household projects that get messy, as utility sinks are generally bigger than a kitchen sink. Just like you checked the bathroom sink, check for any dripping water that may be leaking out when the sink is supposed to be off. If a loose faucet is causing a continuous water flow, it can increase your monthly water bill. Cont.25act a plumber to prevent any more leaks.
3. Energy Efficient Washer and Dryer 
If your home has outdated washer and dryers, it's likely that they are increasing your utility bills. Laundry room appliances use both water and electricity, so it's a good idea to look into more efficient machines. A high-efficiency washing machine can reduce water and energy usage by up to 50 percent.
4. Floors
Check to see if the floors are made out of water resident and durable material such as ceramic tile or luxury vinyl. If the laundry room currently has wood floors, they could easily be damaged from water dripping off of wet clothes. Consider using new material to better protect your floor. Additionally, if the room already has tile and it is cracked or broken, it could be from water pooling under the floor. This is usually a sign of a leak and could lead to a bigger plumbing issue.
5. Plumbing Fixtures
If there is mold or mildew surrounding any plumbing fixtures, there likely is water seeping through where it shouldn't be. Try as you might to clean the areas, it's only a temporary fix to a reoccurring problem. If you want to eliminate the mold or mildew, you must eliminate the moisture causing it. Call a plumber to find the leak and stop it in its tracks.
Use this checklist to go through your laundry room and make your daily chore a breeze. Mike Diamond Services is here to help you with washing machine hose replacement, leak detection, sink repair, and more. As a new homeowner, if you run in to any other plumbing issues we provide a free house call for first time customers. Contact us today to schedule an appointment and get your new house in the best condition.