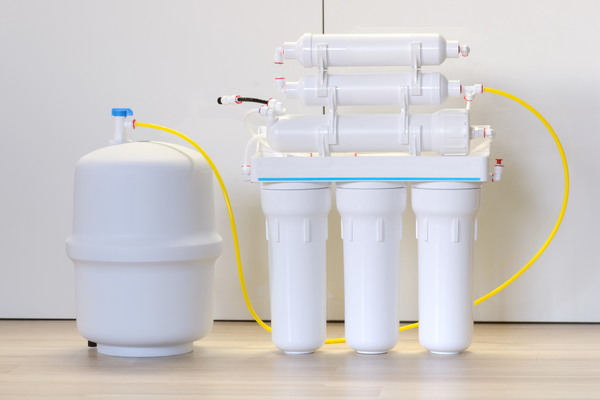 Water cleanliness is an issue for people around the world, including in parts of the US. In areas like these, people have to do what they can to access safe water. Some buy bottled water. Some employ in-fridge or in-pitcher filters. These fixes are easy to implement, but they don't serve you long term. Additionally, they only protect the water you drink. What about the rest of it?
That's where reverse osmosis water purification comes in. These purifiers works as a part of your home's water system. They work to effectively purify all water entering your home. Learn more about what they are, how they work, and their general benefits below.

What is reverse osmosis?
The process of reverse osmosis filtration is complex in execution, but it's actually relatively easy to understand. Osmosis is a process of process of fitting molecules through a filter of some sort to move them from low concentrations to high concentrations. Reverse osmosis is that… but in reverse.
Put simply, reverse osmosis pushes molecules through a porous, semi-permeable membrane. They go from a more-concentrated solution to a less-concentrated solution. In the process, the membrane the molecules move through catches undesirable molecules like water contaminants and heavy metals. The molecules that pass through the membrane successfully are cleaner and safer than before.
How do reverse osmosis water purifiers work?
Reverse osmosis water filtration uses this process to filter water. Reverse osmosis filter systems are several canisters and tubes that attach to the top of water holding tanks. The canisters contain different filters that process your water in several steps. Those steps are:
Pre-filtration. Water goes through the first canister. This canister is outfitted with a carbon filter. The carbon filter will block large debris like sediment, chlorine, and dissolved solids.
Reverse osmosis membrane. Now the water is in the second canister. This second canister has a "reverse osmosis membrane" within it. This membrane will allow pressurized water molecules through but blocks arsenic, barium, bacteria, copper, lead, urea, and virus molecules.
Second carbon filter. The third filter is a replica of the first. It has another carbon filter as a safety net and catches anything the other two didn't. Once water passes through this third canister, it's clean and ready to enter your home for immediate use.
What are the benefits of a reverse osmosis water purifier?
There are benefits beyond just cleaner water when you get a reverse osmosis system installed. Some of these additional bonuses include:
Sodium free tap water. Most other filtration devices don't filter out sodium. In fact, water softeners actually add sodium molecules to your water as a part of their treatment reverse-ionization process. Sodium in your tap water is unnecessary, and there are some health benefits to removing it.
Little to no maintenance work. All these water filters need to keep working is a filter change every six months. Easy.
They make your water taste and feel better. Cleaner, healthier water is the goal. Water that is also better tasting and feeling is just the cherry on the proverbial sunday. Softer, fresher, mineral-free water is kinder on your skin, hair, clothes, dishes, and the rest of your home.

If you want to learn more about having a water filtration device installed in your California home, give the team at Mike Diamond a call. We'll get you set up with the clean, safe water you're looking for as quickly and professionally as possible.