California Water Conservation Tips
California is currently experiencing the worst drought it's seen in generations. As a response to critically low reservoir and rainfall levels, statewide regulations have been imposed to penalize those that are using water in excess.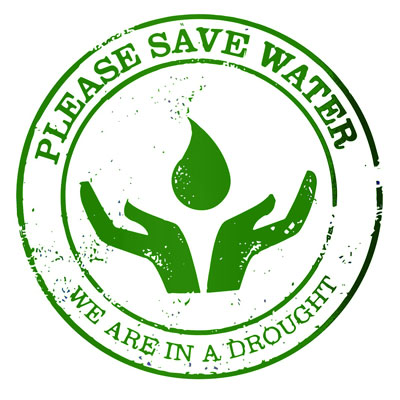 Current Restrictions Include:
The use of an outdoor hose without a shut-off nozzle
Using drinkable water in decorative water features
Generous use of water for outdoor landscapes
Using water to clean driveways or walkways
While its impossible to eliminate your home and families need for water all together, there are some things you can do to ensure you are reducing your consumption and more importantly eliminating any wasteful water usage.
Tips From Mike Diamond Services to Conserve Water:
1. Use Food Coloring to Diagnose a Leak: Place a half a dozen or so drops of food coloring in the toilet tank. Wait 30 minutes and then come back and check to see if the water in the bowl of the toilet has become tinted with the dye. If it has, you have a leak between the bowl and the tank.
2. Check All Faucets For Leaks: A leaky faucet can waste over 200 gallons of water per day and can also cause further damage resulting in more expensive repairs.
3. Inspect Sprinkler Valves For Leaks: Leaky or broken sprinkler heads waste water and affect the coverage throughout your lawn. Adjust your sprinkler heads to correct overspray or install a smart sprinkler controller to adjust watering.
4. Check Both the Hot and Cold Water Supply Lines:
Supply lines can deteriorate and even rupture. A deteriorated water line can usually be detected and replaced before a serious leak or costly damage occurs.
5. Check Your Homes Water Pressure and Water Volume to Ensure They Are Operating at Safe Levels: High water pressure can damage your plumbing and cause leaks. Low water pressure and low water volume can cause hot water scalding if someone is in the shower when another one is in use.
While we hope these tips prevent major service repairs, here at Mike Diamond Services we recommend that you reach out to the professionals in the event of a major plumbing issue. For more information or to schedule an appointment contact Mike Diamond Services today!
Additional California Water Conservation Resources:
Southern California Water Agencies
Need Service Really Fast?
OUR EXPERTS ARE HERE AND READY TO HELP
Schedule Service Call Now