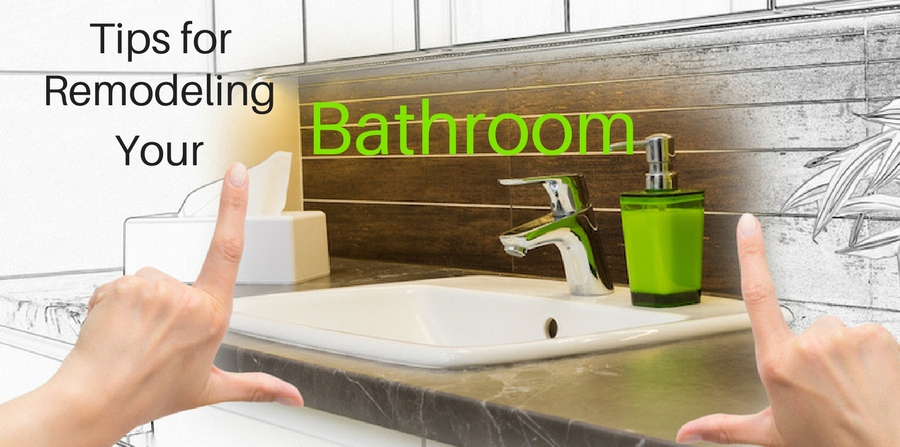 So, you're getting your HGTV on, huh? Good for you! Bathroom remodeling is a blast, and when it works out, it can refresh your perspective on the whole house!
When it works out.
The thing about bathroom remodeling is, it almost never goes as smoothly as it seems to on TV–and it doesn't always go smoothly on TV! The last thing you want is to get halfway through a remodeling job to realize you're out of money… and your bathtub isn't connected to anything.
Luckily, we're here to help. The experts at Mike Diamond have seen a bathroom remodel or two, and we've seen a few ways you can avoid the myriad misfortunes of remodeling gone wrong. Follow these four quick tips–you'll end up with a bathroom you'll love! Unless you decide you don't like your toilet after putting it in.


Have a Budget
This is absolutely crucial. Before you buy anything, know exactly how much money you're willing to spend. Make sure this budget covers everything you want to do. Make a thorough list of the things you want to do. Double check to make sure you don't forget anything.
Once you have your plan, do some research. Find out how much each appliance, floor tile, or new faucet will cost. See if you can do everything you can with the budget you have. If you can't, it's a better idea to scale back your project than it is to spend more. There's always something else to be done, and if you don't watch out, you'll end up spending a bundle. If you ask us, the most successful remodeling project is the one where you don't spend any more money than you planned for. But it doesn't happen as often as you'd think!


Go Green
…in more ways than one! Investing in water-saving appliances like low-flow showerheads, toilets, and faucets will make your home considerably more energy- and water-efficient. Switching out old appliances with new, low-flow replacements can make a huge difference in your monthly water bill–even if you only do it in one bathroom!
You could also take this opportunity to audit your water pressure. Make sure your newly remodeled bathroom is getting enough pressure for low-flow appliances to work properly. If you don't think you are, a remodeling job is the perfect time to install a water pressure enhancer or to ask a pro (like us!) about other ways to up your water pressure. It'll be worth it: green products like low-flow faucets save a lot of money and make your home considerably more efficient. Plus, they work great!


Ventilate
Every bathroom needs a way to discharge excess water vapor, or else the humidity generated by bathing will cause all kinds of problems. Humid conditions promote mold growth, bacterial buildup, and even pest infestation. Excess water vapor in the air will also damage wooden appliances and shorten the lifespan of paint and wallpaper.
If you don't have a fan connected to a ventilation system installed in your bathroom, make sure you put one in during your remodeling. Even if you think you're all set in the ventilation department, be sure to double check. Oftentimes, moving around wiring or plumbing can block or cut off power to your fan, rendering it useless. An unvented bathroom is a serious health risk! Plus, you know, it's yucky.


Get Help With the Big Stuff
We know, part of the fun of remodeling is that you get to do it yourself. You get to pick the tiles, you get to find the right shower and bathtub and sink, etc. We respect that–we're plumbers, after all. We love that stuff. But you should be honest about how far your personal experience can get you.
If you've got the knowhow and you really don't want help, that's fine, but if you're a newbie to the plumbing world you might want some help before you start, say, cutting pipes or taking out a toilet. Consider leaving big replacement jobs, like water supply pipes, whole toilets and showers, or drain lines, to the experts. Remodeling a bathroom is supposed to create solutions, never more problems.
That's where we come in: solutions. Mike Diamond is available to assist with any kind of bathroom remodeling task. Whether you need a new toilet, shower, bathtub, or sink, or even a new water heater, or you'd like to rearrange some electrical wiring, we've got the skill and experience necessary to do it safely. As frustrating as it may be to spend a lot of money on a remodeling job, you'll end up spending a lot more money if you get hurt or break something important. Like the water main.
Next time you're feeling the urge to overhaul, give Mike Diamond a call. We'll handle the nitty-gritty and let you make the sweeping creative decisions. You're like a visionary director crafting a masterpiece. A bathroom masterpiece.