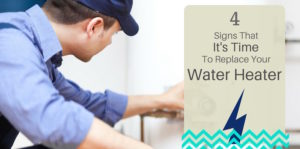 Your water heater is your best friend. It helps you keep your body clean, your dishes clean, and your peace of mind secure when the temperatures outside dip. Unfortunately, water heaters don't last forever, and for most homeowners, having their heater fail isn't something they're prepared for.
Luckily, most water heaters show very distinct signs of wear before giving out completely, so you can spot these signs and act accordingly before things turn. Become one of the few homeowners that actually are prepared for the inevitable replacement of their water heater by committing these four important signs to mind:
Your water heater is so old that you can't remember exactly how old it is
A traditional water heater lasts between ten and fifteen years. You can determine the age of your water heater by finding the serial number on the label. If you find that your heater is over ten years old, you need to start keeping a close eye on its integrity by looking out for the other signs on this list.
If more than one of these signs occurs, call a professional. They'll probably tell you it's time to replace your water heater. Heater serial numbers don't show dates like you might write one down on a check or similar document. Instead, they have their own distinctive system. Here's how it works:
The first part of a serial number is a letter, such as J. J is the tenth letter in the alphabet, so J stands for the tenth month of the year. In this case, it would be October.

After the first letter you'll find two numbers, such as "06". These will stand for the year the water heater was made. "06" would mean 2006, for example.

There will be other numbers after this, depending on the individual brand or variety of heater. You don't necessarily have to worry about those. Just look for the first letter and numbers to determine the month and year your water heater was made.
There's water pooling around the base of the water heater
Water heater tanks involve metal heating, which leads to the expanding and shrinking of the material. When a tank wears down enough, cracks start to appear. Every time the heater's tank expands those cracks get worse, until water starts to leak out.
You hear banging and rumbling noises inside the heater
Noises like rumbling, gurgling, and banging occur when sediment has built up enough at the bottom of the tank. That hard layer of sediment occasionally breaks into pieces, which bang around making the sounds you're hearing.
The more sediment builds up in the tank, the worse the problem gets. Eventually, sediment buildup can make the water heater tank brittle and prone to leaking or overheating. When that happens, it's replacement time.
Your hot water appears rusty in color when it comes out
First things first: if all your water is rust-colored, hot and cold, your problem is more likely your pipes than your water heater. If only your hot water is rust-colored, however, then your water heater has started to decay. Unfortunately, rusty hot water probably means your water heater is beyond salvaging.
If you've noticed any of these signs, call the professionals at Mike Diamond right away. We can inspect your water heater help you choose a new one. Don't let a small problem turn into a season of cold showers and bad mornings–act now!