Make $100,000 a year.
You read that right.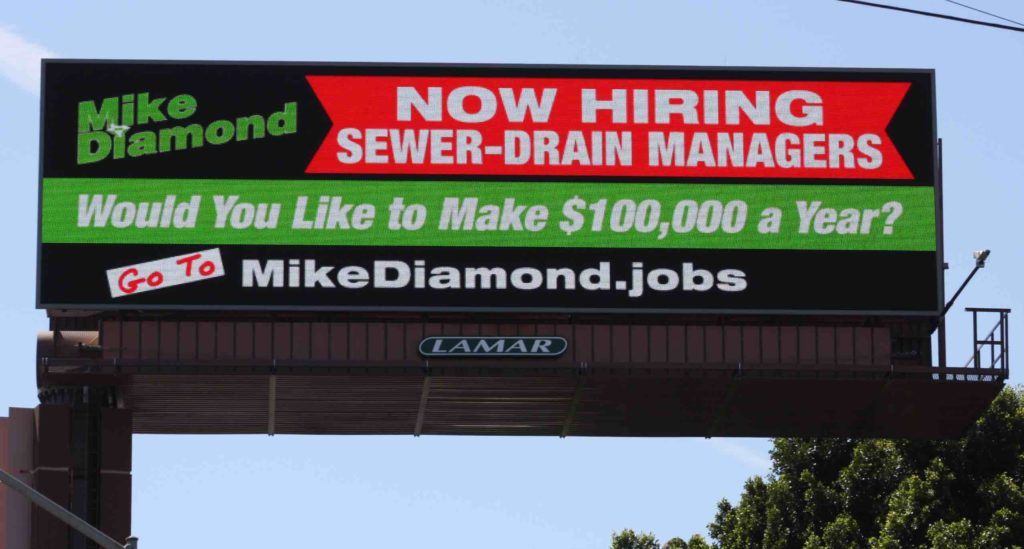 Rare Opportunity! Mike Diamond Services is Hiring a Sales Manager. This job pays over $100,000 to top performers.
We're looking for experienced plumbers with a background in drain and sewer sales to manage our drain sales department in your neighborhood, not across town. You will be responsible for closing drain cleaning and repair jobs while working with friendly talented and receptive Mike Diamond technicians.
Confidentiality Assured.
Why Would You Want This Job?
Base salary plus incentive. You could earn over $100,000.
Well known and respected company with 45 years right here in Los Angeles, Orange, Ventura and San Bernardino Counties.
Company provided trucks, fully stocked with parts and equipment.
Company provided uniforms cleaned for you weekly, FREE!
Paid vacation and plenty of time off.
Relocation expenses are available!
Opportunities galore. Hundreds of service calls daily!
Calls in your neighborhood. Less time in traffic.
Paid medical insurance.
401(k) plan with company match.
Paid life insurance.

Take Company Truck Home Every Night

Full time

Sewer Cameras and Pipe Location Equipment provided In Truck

Base Pay plus Commission

Minimum 3 years field experience and/or training; or equivalent combination of education and experience.

Must have valid driver's license and able to pass auto insurance requirements.

Email your resume

(phacerecruiting@gmail.com) or call

310-838-0408 x2104

in complete privacy.
Improve your life and help your family with a better job working for a better company. Opportunities to work in Mike Diamond's sales department don't open very often, so if you think you're interested, apply NOW!
Apply Now